People and Property: NH Real Estate and Construction News Roundup
Procon, North Branch among Excellence in Construction winners … and more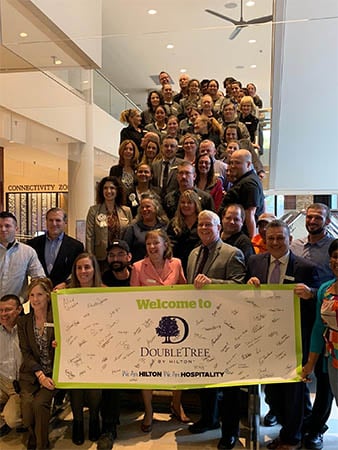 Michael Skelton of Bedford, CEO of the Greater Manchester Chamber of Commerce, has been appointed to the NH Housing Finance Authority's board of directors by Gov. Chris Sununu. Mary Beth Rudolph of Dover, a Seacoast Realtor with Better Homes and Gardens Real Estate The Masiello Group, who has been on the board since 2010, will serve as vice chair. Stephen Ensign of New London is the board's chair.
Belletetes has made a $50,000 contribution to NeighborWorks Southern New Hampshire to support improvement in housing in Nashua's Tree Streets neighborhood. The nonprofit organization's plan involves a combination of acquisition rehab, rental, sales and lending improve the neighborhood's built environment.
The NH Road Agents Association has made a $5,000 donation to the effort to construct a New Hampshire Memorial to Public Works Employees. Construction of the memorial to remember those public works employees who have died while serving New Hampshire communities began in July 2018 and is expected to be completed in the spring of 2019. can be made to the project's GoFundMe page.
Muriel S. Robinette, a senior hydrologist in GZA GeoEnvironmental's Bedford office, has been elected to chair the NH Board of Professional Geologists for a two-year term. She was initially nominated to serve on the board by Gov. John Lynch in 2012 and was reappointed in 2017 by Gov. Chris Sununu.
The Peterborough Town Library's 1833 Society has received an $11,000 gift from the Robert and Mary Cormack Fund of the NH Charitable Foundation toward its capital campaign to build a new library. The library campaign goal is $8.5 million, with $7,343,060 million raised to date in gifts and pledges, including a $3 million bond that was passed at Peterborough's May 9 town meeting.
Scheduled for construction next spring, the expanded library will be built with accessibility and sustainability as core features. It will feature and reading, working and study spaces as well as three multimedia-equipped meeting spaces of different sizes and available for public use, the largest seating 120 people.
Procon and North Branch Construction were among the winners of Associated Builders and Contractors NH/VT Excellence in Construction Awards at the organization's Oct. 25 ceremony at Manchester Country Club.
Procon, based in Hooksett, was honored for three Massachusetts-based projects: Homewood Suites by Hilton in Chelsea, Brightview Senior Living in Wakefield, and Crowe Hall at Merrimack College in North Andover. Procon also received the organization's first Workplace Development Award.
Concord-based North Branch was recognized for the fire reconstruction of the Morton Hall dormitory on the campus of Dartmouth College. Dartmouth College's Patrick O'Hern and Chris Johnson, along with project architects Sharon Ames and Mark Lee of Harriman Associates, joined North Branch project manager Jim Schwartzkopf on stage for the presentation.