People and Property: NH Real Estate and Construction News Roundup
$1.35m Dover retail transaction, Construction Ethics Award nominations sought … and more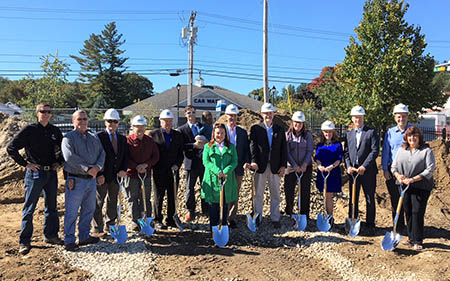 Walpole-based Bensonwood has launched PHlex, a new product launched that the company says provides a cost-effective and precise assembly of building panels to achieve customized passive house performance.
"Our PHlex system adapts to each building's parameters to achieve Passive House performance, including the local climate, the orientation of the home, occupancy, square footage and budget," said Hans Porschitz, chief operating officer of Bensonwood and a certified passive house Builder.
He said the customized PHlex panels are manufactured according to specifications off-site in the firm's building systems facility in Keene, then bundled and shipped according to the order that they will be assembled on the construction site.
Bar Harbor Bank & Trustrecently presented a $20,000 contribution to the Nashua Regional Planning Commission through Community Development Finance Authority tax credits in support of in support of four economic development projects in the town of Wilton, including extension of the Stoney Brook Riverwalk in downtown.
Katelyn Nash, a real estate agent at Central Gold Key Realty, Franklin, was recently selected as the 2018 Young Careerist by the New England Business and Professional Women's Past State Presidents Association. Judges selected Nash as the winner based on her four-minute speech, a personal interview and a biographical statement outlining her accomplishments. She received a certificate, $500 check, a red purse signifying pay equity, and a crystal bracelet by the New England BPW PSP Association and members.
Dennis Mires The Architects, Manchester, has announced completion of the Downtown YMCA Center for Youth and Teen Leadership in Manchester. The renovation project transformed an underutilized locker room and storage area into a 5,000-square-foot multipurpose space with programs for teens and seniors. Milestone Engineering & Construction was the builder.
Pindrus Properties has sold three retail buildings on 1.3 acres of land at 892-896 Central Ave., Dover, to The Stonewall Group. According to the Strafford County Registry of Deeds the purchase price was $1.35 million.David Choateof Colliers International's Portsmouth office represented Pindrus and Arthur Pappasof Keller Williams Coastal Realty represented The Stonewell Group.
The U.S. Department of Housing and Urban Development has awarded the NH Housing Finance Authoritya $302,816 housing counseling grant aimed at helping over 3,000 households find housing, make more informed housing choices, or keep their current homes.
Brian Gallagherhas joined DEW Construction as director of business development. Gallagher previously was director of business development for Sullivan Construction of Bedford and before that was director of business development for Dacon Corp., Natick, Mass.
Concord-based Nobis Group and Verina Consulting Group, Bridgewater, N.J., have received approval of their mentor-protégé agreement from the U.S. Small Business Administration. As a mentor and a longtime federal contractor, Nobis will provide management, technical and business development assistance to VERINA to help them more effectively compete in the federal marketplace.
Community Bridges, an organization that provides support to people with disabilities, has purchased 162 Pembroke Rd., Concord, a 23,000-square-foot flex office building that will become its new headquarters. Sale price was $1.85 million. Brenda Litchfield, owner/broker of Concord Commercial Real Estate, represented Community Bridges in the transaction. The seller, Rumble Real Estate LLC, was represented by Deane Navaroli, William & Reeves. Financing was handled by Randy Guay, Merrimack County Savings Bank.
Tower Hill Cottages, 220 Endicott St. North in Laconia, has been sold by Michael Croteau of MPC Hospitality to Richard Spinosa. John Ganong of Roche Realty Group Inc., Meredith, represented both the seller and the buyer in the transaction. The property includes 12 individual cottages, 12 RV sites, a year-round, four-bedroom owner's home with office, an in-ground pool with sundeck, a new bathhouse with laundry and a two-car garage with city water and sewer on two acres.
Dustin Sewall has joined the civil engineering department of TFMoran as a project engineer in Bedford. In addition,
Hannah Giovannucciand Ryan Kaulbachhave joined the company's civil engineering department in Portsmouth.
Nominations are being sought for the NH Construction Industry Ethics Award, presented by Plan NH. The award is presented to "the individual, business or organization that, through its words and deeds, best demonstrates a commitment to upholding the highest ethical standards in construction." Nominations should be mailed or e-mailed to: Robin H. LeBlanc, executive director, Plan NH, P.O. Box 1105, Portsmouth 03802-1105; r_leblanc@plannh.org. Deadline for nominations is Dec. 21.