People and Property: NH Real Estate and Construction News Roundup
State Senator Kevin Avard to host tour of Nashua hydropower facility, EPA grants $140,000 to address asbestos in schools ... and more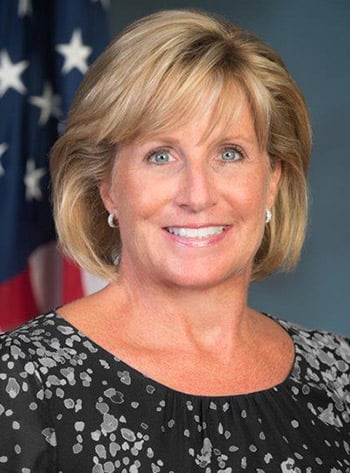 U.S. Department of Housing and Urban Development Deputy Secretary Pamela Hughes Patenaude has been awarded the 2018 EPIQ Impact Award from CoreLogic. The New Hampshire native earned the recognition because of her accomplishments in the areas of housing, community economic development and public policy. Throughout her career, Patenaude has demonstrated unique ability in leading bipartisan efforts to create meaningful action in support of the nation's housing economy.
As deputy secretary, Patenaude has personally surveyed the devastation of Hurricanes Irma and Maria and delivered billions in relief to distressed families in Puerto Rico. As the director of housing policy for the Bipartisan Policy Center, she spearheaded the creation of a groundbreaking proposal for housing finance reform that guided the conversation on how to move our nation forward.
Senate Energy and Natural Resources Committee Chair Kevin Avard (R-Nashua) will join representatives from the District 12 communities to tour the Mine Falls hydropower facility at 16 Riverside Street in Nashua on Thursday, August 2 at 9 a.m. Participants will discuss the impact of the vetoes of SB 365 and SB 446 and the benefits of being able to serve the City's municipal buildings by generating and using power created by the City of Nashua, also known as "net metering". Regarding directions: The Mine Falls hydropower facility is located off of Stadium Drive in Nashua. From Stadium drive turn right at the skate park across from the YMCA. Turn right at the boat ramp onto the gravel road and continue past the brick gatehouse. There is a parking area on the left and you will see the dam and hydropower station from there.
Congresswoman Carol Shea-Porter (NH-01), founder of the Congressional Asthma and Allergy Caucus, Senators Jeanne Shaheen and Maggie Hassan, and Congresswoman Annie Kuster (NH-02) today announced that the New Hampshire Department of Environmental Services will be receiving a $140,000 grant from the EPA to address asbestos contamination in schools by helping fund New Hampshire's Asbestos in Schools Program. The program will review school asbestos management plans to ensure compliance with the Asbestos Hazard Emergency Response Act, maintain an asbestos accreditation and certification training program, and provide educational outreach to parents, teachers, and school maintenance personnel on the dangers of asbestos exposure.
Brian Gallagher has joined DEW Construction as director of business development as DEW looks to open an office in southwestern New Hampshire. Gallagher has been active in the construction management and real estate industry throughout New England for over 25 years. Most recently, Gallagher was director of business development with Sullivan Construction out of Bedford, NH. Prior to that he, was with Dacon Corporation, a large design/build firm based in Natick, Mass., where he served as director of business development for ten years
Matthew Bachler has been named the town of Swanzey's director of planning and economic development. Bachler was one of 17 applicants for the position and was selected after a thorough vetting process. He is expected to start September 4. The town will be scheduling a meet and greet opportunity.Bachler is a New England native who grew up in Vermont. He currently lives in Minneapolis, Minn., and serves as city planner for the city of Arden Hills, Minn., where he has worked since 2013. In his current position he oversees all planning and economic development functions for the Community Development Department and works closely with the city's Planning Commission.
New Hampshire Construction Career Days will take place Thursday, Sept. 27 and Friday, Sept. 28 from 8:30 a.m. to 12:30 p.m. at the Hillsborough County Youth Foundation Center at 15 Hilldale Lane in New Boston. Last year, over 1,100 high school students from across the state attended this hands-on, career exploring event that introduces students to over 70 businesses that are exhibiting. The event focuses on increasing awareness of careers in heavy equipment, welding, plumbing, electrical wiring, surveying and engineering, land clearing, underground utilities and other construction related jobs. Click here for more information, and email staysafetraffic@aol.com.
After a two-year renovation of the historic Pickering homestead in Wolfeboro, Pickering House Inn has opened its doors. The inn's owners, Wolfeboro residents Peter and Patty Cooke, will host a grand opening month in August 2018 that will feature reservation-only farm table suppers taking place each Saturday in The Barn at Pickering House. The dinners provide a draw for visitors who are among the first to book a stay at the new inn, and enable area residents to experience the transformation of a local landmark without being an overnight guest during the Inn's opening season. For additional information on Pickering House Inn, visit https://www.pickeringhousewolfeboro.com/ or call 603-569-6948.