People and Property: NH Real Estate and Construction News Roundup
Name change for Nobis, SEA donates $5,000 to public works memorial effort … and more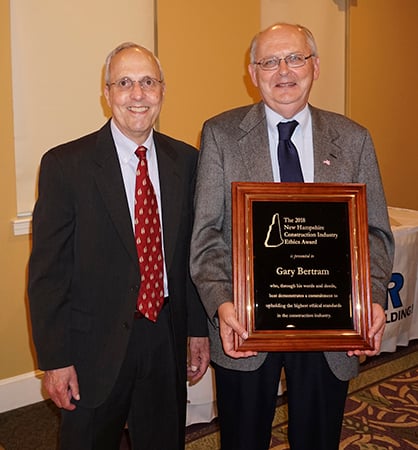 A new 136-kilowatt photovoltaic array is expected to produce 40 percent of the electricity needed at the new Bensonwood/Unity Homespanel manufacturing facility at 25 Production Ave. in Keene. The solar array components and its installation were provided by Green Energy Options of Keene.
The new 110,000 square-foot fabrication facility, which became operational in April 2018, is equipped with an expansive rooftop solar array that has a commissioned "turn-on" date of June 30.
Bensonwood and Unity Homes join a small but growing number of companies using solar energy to power manufacturing facilities, said CEO Tedd Benson. "Solar energy is a pragmatic way to power manufacturing facilities," said Benson.
Concord-based Nobis Engineering has announced has changed its name to Nobis Group, a change that the firm says better reflects its overall offered services and expertise.
Founded in 1988 by Nannu Nobis, Nobis Group is a 90-person employee-owned engineering and science consulting firm serving public and private sector clients throughout New England with offices in New Hampshire, Massachusetts and Connecticut.
The State Employees' Associationrecently presented a $5,000 check to the state's Public Works Memorial Committee toward fundraising efforts to construct a memorial honoring public works employees killed in the line of duty.
"We represent so many public works employees that the board of directors' decision to support this project only made sense," said Richard Gulla, president of the union. NH Department of Transportation Commissioner Victoria Sheehan and Director of Operations David Rodrigue were present to receive the $5,000 check.
The donation brings total donations to $44,000 of the $80,000 that the committee needs to raise.
Individuals can donate by clicking here.
Construction management firm Fulcrum Associates of Amherst has hired Thomas Howardof Newmarket as the company's first vice president of business development. Most recently, Howard was vice president of business development at John Turner Consulting.
Paul Carey has joined the Bedford-based engineering firm TFMoran as a project manager in the civil engineering department. Carey, a licensed professional engineer in Massachusetts, has over 25 years of experience in the civil and environmental engineering field. In addition, engineer-in-training Andrew Griffin has joined the firm's structural engineering team.
Roedel Companies of Wilton was one of five Hilton affiliates to earn a the 2017 Developer of the Year Award at the recent Hilton Owner Awards ceremony. Roedel was honored in the Full Service category for its restoration and opening of Hotel Saranac, Curio Collection by Hilton.
Towne Shoppes at 29 Indian Rock Rd., Windham, has been sold to K. Kara Inc. of New Jersey. The property, a 7,828-square-foot retail strip plaza, is fully occupied by Aplus Cleaners, State Farm Insurance, Klemms Bakery, Renew Medispa and Bank of America Kiosk. Jerry Herschof the commercial division of Tinkham Realty, Inc. represented the seller, 21st Century Development Corp. of Windham NH. Sales price was $1.65 million.
Walmartstores in Amherst, Rindge, Salem, Claremont and Plymouth will be remodeled during the next year. The company said the changes will allow the retailer to test new technologies aimed at delivering greater convenience and faster services, including online grocery pickup, which allows customers to order groceries online and pick them up at the store. In addition, the stores will feature Walmart Pickup Towers, which allow customers to pick up their online orders in less than a minute by scanning a bar code sent to their smartphone.
New Hampshire's construction unemployment rate in May fell 0.4 percent, to 3.8 percent, on a year-over-year basis, according to data from Associated Builders and Contractors.
ABC said May unemployment rates fell in 45 states, with the
The May national construction unemployment rate fell 0.9 percent from May 2017 to 4.4 percent, the lowest May rate on record. At the same time, the construction industry employed 291,000 more workers nationally than in May 2017.
Lisa Waller-Gage, a nearly 20-year real estate veteran, has opened SKY Realty in Merrimack. Waller-Gage, who named the agency after her daughter Skyler, says opening the firm "helps send a strong example and message to young girls who also aspire to make their dreams come true." Waller-Gage said her new agency has "a vision to focus on the client vs. being volume-driven. This special attention and results-driven approach is what we call 'Elite Service.'"