People and Property: NH Real Estate and Construction News Roundup
DHMC breaks ground on new facility, Howe named Monadnock Realtor of Year … and more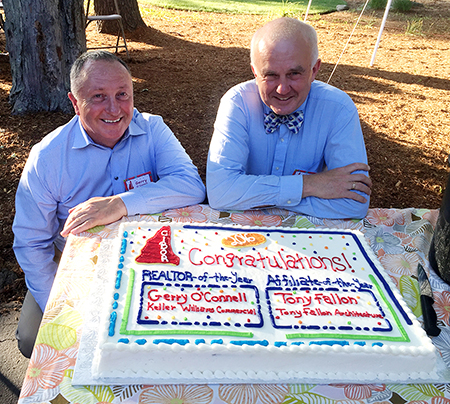 Ground was broken Monday to mark the start of work on the Jack Byrne Center for Palliative and Hospice Care, a 30,000-square-footk $22 million facility at Dartmouth-Hitchcock Medical Center in Lebanon.
The facility will be designed to increase support for patients' and families' physical, emotional and spiritual comfort. E4H MorrisSwitzer Environments for Health of Burlington, Vt., designed the facility, which is slated for completion in the fall of 2017.
The Grand View Resort in Weirs Beach has been sold by Tom and Lynda Pucci to Nicholas Tamposi. Originally established in 1850, the Grand View Resort has been owned by the Pucci family since 1982. Tom Drouin of Roche Realty Group Inc., represented both the seller and the buyer in the transaction.
Christopher Gagnon, EIT has joined the MSC division of TFMoran Inc. in Portsmouth, serving as a civil project engineer.
Michelle Howe of Better Homes and Gardens Real Estate-The Masiello Group in Keene has been named the Monadnock Board of Realtors Realtor of the Year. The award recognizes those who have served not only the real estate profession but also their communities.
David L. Frothingham III has joined the staff Wilcox & Barton Inc. of Moretown, Vt., as a senior civil engineer.
Shane Vahey has joined New England Hotel Realty, Portsmouth, as a director of real estate business development. Vahey has over 15 years of real estate sales, consulting and management experience in the New York City and New England area.
The Southern NH Planning Commission and SmartPower, a national marketing firm in Washington D.C., will be working together this summer and fall to bring Round 3 of the successful Solar Up NH solarize program to the SNHPC region. The towns of Francestown, New Boston and Weare, will participate in the round, which runs until Oct. 15.
Seven communities in the SNHPC region participated in the first two rounds last year and the result was 1.35 megawatts of new renewable solar energy through solar installations at 91 homes and three businesses.
For more information, visit solarupnh.com.
Don St. Germain, executive vice president and chief lending officer of St. Mary's Bank has been appointed by Gov. Maggie Hassan to the NH Real Estate Appraiser Board. St. Germain will serve on the for a three-year term.
Sanborn, Head & Associates Inc., Concord, has announced the addition of Mary Beth Dopfer of Bedford to its staff as vice president of finance. Dopfer, a CPA, has over 25 years of experience managing the finances of engineering and manufacturing firms.
The Property Drone Consortium, Bothell, Wash., a collaboration of insurance carriers, roofing industry leaders and supporting enterprises has entered into a research initiative with Rochester Institute of Technology that will assess the usefulness of various unmanned aerial systems and a variety of sensors for up-close property inspection.
B2W Software, Portsmouth, a provider of heavy civil construction management software, says it has expanded its B2W Inform platform for estimating and operations with a new application for capturing data and turning it into actionable intelligence.
CEO Paul McKeon said the new application provides a single, centralized solution for health and safety, inspections, regulatory compliance and dozens of other form-dependent processes.
Cobb Hill Construction Inc., Concord, recently was awarded the Greater Concord Chamber of Commerce's 2016 Pinnacle Award as Business of the Year. The award recognizes businesses and individuals that have demonstrated professional excellence and commitment to the chamber and the community.