People and Property: NH Real Estate and Construction News Roundup
NH Solar Shares to break ground on first array, Shaheen & Gordon to move Dover offices … and more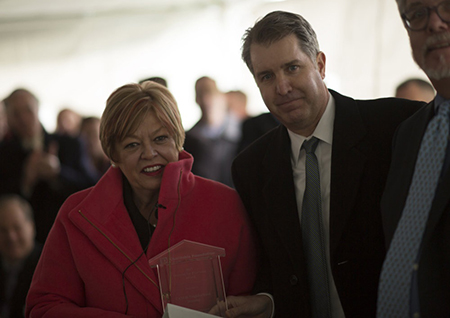 The NH Liquor Commission has announced plans to build a new 19,000-square-foot NH Liquor & Wine Outlet on Plainfield Road in West Lebanon, about a mile south of the existing location in Powerhouse Plaza. The new store, which will be more than double the size of the existing location, the commission said, accessible to more than 20,700 daily motorists. Pending local approvals, construction will begin in the spring.
Christopher Galbraith, treasurer at North Branch Construction in Concord, has been appointed to the board of directors of the newly formed New Hampshire Chapter of the Construction Financial Management Association.
A matching grant of $10,000 from the NH Electric Co-op Foundation will allow NH Solar Shares to break ground on its first solar photovoltaic array that will share renewable energy with low-income families.
The inaugural Solar Shares array will be built in Plymouth on land donated by The Common Man Family of Restaurants. It will consist of three or four pole-mounted solar arrays serving as shade for the customers as well as a solar picnic pavilion.
The Plymouth Area Renewable Energy Initiative has partnered with New Hampshire Electric Cooperative to create NH Solar Shares, which aims to build small-scale solar arrays using local volunteers, donations and charitable foundation grants. The majority of the electricity will be credited directly to the electric bills of low-income families living in the region of the solar PV array.
Scott Harding has been promoted to director, federal services, at Concord-based Nobis Engineering. Harding, who joined Nobis in 1992 and has over 20 years of experience working in the federal market, previously was program manager for Nobis on the EPA Region 1 Remedial Action Contract, overseeing over 25 projects involving investigations and remedial actions at Superfund and brownfield sites throughout New England.
In addition, three employees of Nobis Engineering, Concord, have earned professional licenses. Diane Baxter and Adam Roy each earned their Massachusetts licensed site professional (LSP) designations. Patrick Clarke received his Massachusetts professional engineer license.
Gregg Blair of Windham has been hired as chief financial officer at Jewett Construction, Concord. Prior to joining Jewett, he ran the U.S. accounting department for a national homebuilding firm.
The law firm of Shaheen & Gordon will be moving its offices down the street into new space in the TD Bank building at Central Avenue and Washington Street in Dover by early summer 2018.
The building was recently purchased by Chad Kageleiry with Summit Land Development of Dover. Plans are in place for a complete exterior renovation and expansion to the second floor, and Shaheen & Gordon will occupy the entire 10,000 square feet of that floor. Interior renovations are ongoing and much of the original brick will be restored as a feature of the new office space.
TD Bank will remain as a tenant in most of the first floor, however approximately 4,000 square feet of retail street-level space will be available to lease once renovations to the bank's space are complete.
The firm is currently at capacity in its space at 140 Washington Street, said Sean O'Connell, partner and shareholder at Shaheen & Gordon.