People and Property: NH Real Estate and Construction News Roundup
Grella named Manchester/Nashua Realtor of Year, Corporate Place sold in Nashua … and more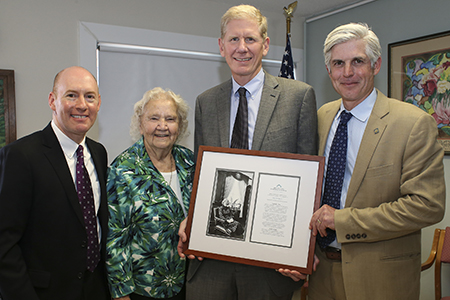 Brady Sullivan Properties has sold 36 units at Quarrywood Green in Milford for price of $3.25 million or $90,000 per unit, the company announced. Brady Sullivan's in-house commercial team of Charles Panasis, Ben Kelley and James Tobin facilitated the transaction.
Quarrywood Green is a garden-style condominium complex consisting of two buildings totaling 66 condominium units. The packaged portfolio of 36 units was fully rented and consisted of mostly two-bedroom, two-bath units.
Theresa Grella of Amherst has been named as the Greater Manchester/Nashua Board of Realtors' 2015 Realtor of the Year. Grella, a Realtor with Bean Group in Amherst, has been practicing real estate for over 30 years and was president of Greater Manchester board in 2014.
Bill Johnson, Terracon's client development manager for the New England region, will serve as president of the Society for Marketing Professional Services Northern New England's 2016-17 fiscal year. SMPS, established in 1973, is a professional society devoted to the marketing of professional services for businesses in the built environment.
DeStefano Architects, Portsmouth, has added Nicole McNeal, a recent graduate of Endicott College's interior design program, to its staff.
The property at 31 Portsmouth Ave. in Exeter has been sold to Baker Prop LLC for $825,000. Patti Visconte and Ray Pape of Masiello Group Commercial Associates assisted the seller, The Rogan Family, which owned and operated Rogan's Bakery & Restaurant at the site for over 26 years.
Jackman Commercial Realty Inc., Manchester, has announced the sale of sold Corporate Place, a 35,500-square-foot, four-story office tower at 547 Amherst St., Nashua. John Jackman, president of Jackman Commercial, represented the seller, 547 Amherst LLC and assisted the Buyer, 547 Amherst Street LLC.
At the time of sale, the property was 96 percent occupied. According to the Hillsborough County Registry of Deeds, the property sold for $3.125 million.
Thomas Cochran of Rye has joined Raymond-based Jewett Construction Co. as a pre-construction assistant.
The Mortgage Bankers and Brokers Association of NH has a new board of governors for 2016-17: president, Martha Cossey, Market Street Settlement Group; president-elect, J.J. Sawicki, Merrimack Mortgage Company; secretary, Evelyn Whelton, Bank of NH; and treasurer, Mark Chalifour, NH Mutual Bancorp.
Also: members at large, Barbara Cunningham, St. Mary's Bank, Scott Hanley, Regency Mortgage, Ignatius MacLellan, NH Housing, Nate Keener, Embrace Home Loans, Sandra Gausch, Regency Mortgage, Deborah Ferrante, Essent Guaranty, Christine Keller, and Envoy Mortgage, Steven Thayer, Radius Financial Group.
The NH Housing Finance Authority recently approved $250,000 in grants and loans to the NH Community Loan Fund to expand mortgage opportunities for manufactured housing resident-owned communities and to support rehabilitation loans and down payment assistance for residents and homebuyers within those communities.
Activemed Practices and Research Inc., previously of Newington, has leased 5,535 square feet of office space at 110 Corporate Drive, Portsmouth. Kent White of CBRE-Portsmouth represented the landlord and Christian Stallkamp of CBRE-Portsmouth represented the tenant in the transaction.
Brian Cooney, who recently retired as executive vice president of finance and administration at New Orleans-based Barriere Construction, will join Paul McKeon, CEO of B2W Software, Portsmouth, at the 2016 Construction Financial Management Association Annual Conference and Exhibition for a presentation exploring how construction companies can optimize mobile technology and data. The pair will speak on June 27 at the conference, which is being held in San Antonio, Texas.