People and Property: NH Real Estate and Construction News Roundup
Windham office building sold for $1.12 million … and more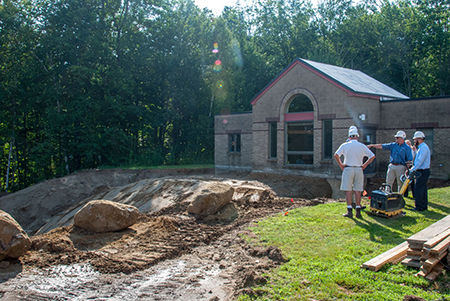 Funding for substance abuse treatment facilities in Bethlehem and Nashua has been approved by the NH Housing Finance Authority.
Friendship House, the only residential drug-treatment facility in the North Country, will receive a total of $1.45 million from the Affordable Housing Fund toward construction of a new 32-bed facility that will be able to serve up to 60 individuals. The North Country Health Consortium will operate Friendship House, which will be owned by AHEAD (Affordable Housing Education & Development).
In Nashua, Harbor Homes' Northeastern Boulevard Recovery Housing project will receive $1.03 million to renovate a commercial building into a 55-bed recovery housing facility. It will include shared dining, kitchen, recreation, and service delivery spaces.
David Fisher has joined Merrimack County Savings Bank as a mortgage loan originator. He will be based out of the Bank's Nashua office at 101 Broad St.
Paul Roberson, account executive at The Rowley Agency, Concord, has been elected president of the board of Plan NH. He succeeds Rob Dapice of NH Housing, who served in the role for 2½ years.
DeFrancesco's Southern New Hampshire Quality Roofing & Siding Contracting, Derry, has been hosting a summer shoe donation drive for Soles4Souls, a nonprofit global social enterprise committed to fighting poverty through the collection and distribution of shoes and clothing. New or gently worn pairs of shoes can be dropped off at 6 East Broadway, Derry.
Construction is moving forward on Meredith Village Savings Bank's newest office at 2839 Lafayette Rd., Portsmouth. The branch, which is expected to open in the coming weeks, will be MVSB's second location on the Seacoast and 13th office overall.
Saxbys, a Philadelphia-based coffee and hospitality company, will open its first cafe in New Hampshire on Aug. 25. Located in Madbury Commons near the University of New Hampshire, Saxbys is commemorating the opening of the new cafe with a pay-as-you-wish preview party from 10 a.m. to 3 p.m. Aug. 25.
Shea Commercial Properties Inc. has announced the sale of the 12,864-square-foot Granite Oaks Professional Office Building, 127 Rockingham Rd., Windham. The transaction was handled by Jerry Hersh of Tinkham Realty, who represented Granite Oaks LLC, the seller, and Harry R. Shea and Nick Shea of Shea Commercial. Sale price according was $1.12 million
Littleton-based Horizons Engineering's Chris Hernick has received his professional engineer license from the state of New Hampshire. Hernick works out of the company's New London office on civil engineering design.