People and Property: NH Real Estate and Construction News Roundup
Sununu delivers infrastructure funding to Londonderry, plans halted for Wild Goose project ... and more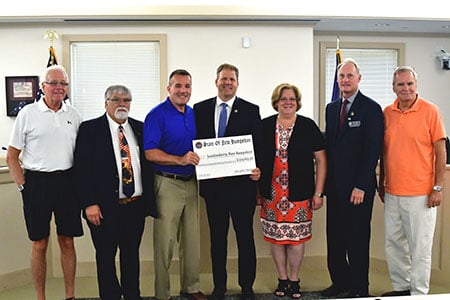 Governor Chris Sununu and Senator Sharon Carson presented the Town of Londonderry with $519,823 for road and infrastructure improvements as part of the $37 million in surplus funds to communities across the state for infrastructure improvements.
Hillside Village at Keene, a not-for-profit Life Plan Community, has completed site work and has begun pouring concrete foundations for its three buildings on Wyman Road. The complex sits on nine acres of a 48-acre parcel with 140 apartments for independent living and a state-of-the-art Continuing Care Health Center that will comprise 80 private rooms for assisted living, nursing and specialized memory care.
To accommodate growth, Howell Valuation LLC recently relocated to larger office space at 11 Court Street, Suite 180-1 in downtown Exeter. Howell Valuation has also added Kathy Taylor to its staff as business valuation manager. In addition to being a CPA (Certified Public Accountant), Taylor is designated as an ABV (Accredited in Business Valuation) by the American Institute of Certified Public Accountants and a CFE (Certified Fraud Examiner) by the Association of Certified Fraud Examiners. She has significant experience in performing business valuations for a variety of purposes — including ESOPs, estate/gift taxes, and litigation matters. Additionally, Laura Thomas has joined as an executive assistant. In addition to performing all administrative functions for the firm, she provides assistance on client projects.
On July 28, Governor Chris Sununu issued a statement that he put a halt to current plans for Fish and Game to build the proposed public boat access site on Lake Sunapee, commonly known as Wild Goose, after hearing concerns from residents of Newbury, Sunapee and surrounding towns. The governor pulled the renewal of the wetlands permit off the Governor and Council agenda for August 2, resulting in the expiration of the permit at the end of August 2017. Sununu said it was "time to put an end to this flawed plan. Public access to our state's waterways is important and essential, and we will work with the residents of the area to find a better solution to ensure greater public access." The Wild Goose project dates back to 1990, when the Land Conservation Investment Program purchased a 133-acre tract of land and gave a parcel of 3.3 lakefront acres to Fish and Game with the understanding that it would be developed into the primary free public boat access to the state's sixth largest lake.
The Seacoast Board of Realtors will host its annual charity golf tournament Wednesday September 20 at Pease Golf Course. The tournament will feature a noontime shotgun scramble, dinner and silent auction. Registration is open to members of the public at $475 per team, which includes dinner, a gift bag and a shot at Port City Nissan's hole-in-one vehicle give-away. Registration can be completed online at https://birdeasepro.com/SBRGolf or by contacting the Seacoast Board of Realtors.