People and Property: NH Real Estate and Construction News Roundup
Roache to succeed Sinnott at Rockingham Planning Commission … and more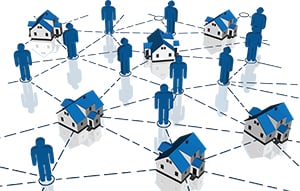 The Residence Inn by Marriott Hanover-Lebanon is open at full capacity following a more than $6 million renovation that began in November 2016. Work included a full redesign of all 114 guest rooms, a newly redesigned gatehouse and lobby and fitness center. The hotel, owned by Norwich Partners, which says it has further construction plans for the hotel, including rebuilding the parking lot and sidewalk, as well as constructing an outdoor patio and fireplace. Thee improvements are expected to be completed by September.
Timothy Roache, executive director of the Nashua Regional Planning Commission, has been named the new executive director of the Rockingham Planning Commission. The Stratham resident will begin his new job on Aug 1, the commission said. He will succeed Cliff Sinnott, who is retiring after serving as RPC's executive director for nearly 30 years.
The U.S. Department of Agriculture has named Residential Mortgage Services its New Hampshire Guaranteed Lender of the Year, a recognition of the company's efforts to helping families achieve homeownership and its commitment to customer service. RMS participates in USDA Rural Development's Single Family Housing Guaranteed Loan program, which in 2016 helped 666 families purchase homes in New Hampshire communities.
Manufactured-home owners in the Upper Valley towns of Enfield and Canaan have purchased their parks, boosting the number of resident-owned communities in New Hampshire to 123, 13 in Grafton County.
The loan closings came about because Mascoma Parks LLC owned both the Daniels Acres Mobile Home Park in Enfield and Pleasant Valley Mobile Home Park in Canaan. It was the first time since 1994 that the NH Community Loan Fund, which supplied financing and training to both resident groups, has converted two parks to resident ownership in the same day.
College students Jack Watton, Kelsie Gagner and Hannah Kelsey are working as interns this summer at Bedford-based TFMoran. Watton, a student at the University of New Hampshire, works in the civil engineering department. Gagner, who attends Southern New Hampshire University is a marketing intern. Kelsey is attending Smith College and works in the stormwater department.
Teresa Vitelli has been named director of growth and development at Berkshire Hathaway HomeServices Verani Realty. Most recently, Vitelli was regional manager of Verani's Somerville, Mass., office, which serves the Greater Boston area.
Demolition is underway at the site of the new Optima Bank & Trust branch at 920 Central Ave. in Dover. The bank's executive team along with representatives from Sullivan Construction, Altus Engineering, Bruce Ronayne Hamilton Architects, the Greater Dover Chamber of Commerce and the city attended a ceremonial groundbreaking on Monday, July 10.
The new location will be a two-story building with two drive-up windows and 25 parking spaces.