People and Property: NH Real Estate and Construction News Roundup
Engels named Lakes Regional Realtor of Year, DeStefano completes Stonewall Kitchen project … and more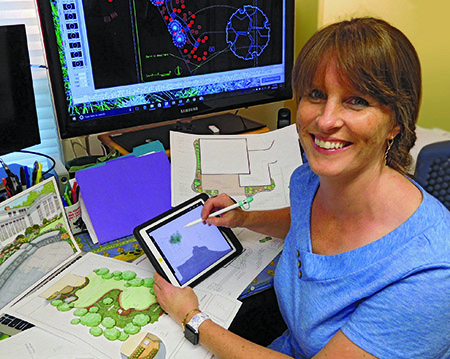 The Tufts Health Plan Foundation has provided a $50,000 grant to the Sustainable Southern New Hampshire Planning Commission Foundation to support the foundation's initiative that focuses on creating and developing communities that work for residents of all ages.
The includes assisting interested communities and businesses in developing age-friendly strategic plans and addressing actions identified by residents, stakeholders, and businesses. Projects could address a range of issues including housing, transportation, accessibility, recreation and engagement, as well as a focus on business and economic development.
The U.S. Forest Service's Saco Ranger District recently partnered with Mount Washington Valley businesses and organizations to renovate housing for transitioning soldiers from active service to civilian life through the Veteran Conservation Corps.
The effort is part of the White Mountain National Forest's partnership with the U.S. Defense Department in a career skills program to offer internships in land management to transitioning soldiers. Under the 120-day program, transitioning veterans will be trained in various aspects of natural resource land management.
Among the participating organizations were Home Depot , Flatbread Pizza Company, Applebee's, Bart's Deli and General Store, Maggs Electric and Vernon E. Smith & Son Plumbing.
North Branch Construction employees were honored at the Associated Builders and Contractors of NH/VT's annual recent Employee Appreciation event. The firm celebrated the graduation of project superintendents Jamie Stewart and Jeremy Jefferson from the Future Leaders in Construction program. In addition, Jefferson, along with North Branch carpenter Greg Vallee, received a Certificate of Professional Achievement in Construction Supervision for completion of the ABC Superintendent Program.
In addition, North Branch was the recipient of several Safety Awards, including second place for safety performance, zero cases resulting in lost workdays and Most Creative Safety Program
David Preece, who recently retired as executive director of the Southern New Hampshire Planning Commission, was recently presented with the Walter Scheiber Leadership Award at the National Association of Regional Council's annual conference in Monterey, Calif. The award is presented in recognition of leadership excellence in advocating regional concepts, approaches, and programs at all levels of government.
The Portsmouth Downtown Historic District has been named to the National Register of Historic Places. In New Hampshire, listing to the National Register makes applicable property owners eligible for grants from programs that include the Land and Community Heritage Investment Program and the Conservation License Plate Program.
DeStefano & Associates Inc., Portsmouth, recently completed the interior fit-up of 3,000 square feet of employee support area and offices at the newly constructed Stonewall Kitchen warehouse off of Mast Road in Dover.
Michele Engel of Berkshire Hathaway HomeServices Verani Realty has been named the 2017 Lakes Region Board of Realtors Realtor of the Year. The honor recognizes the recipient's business accomplishments, activity with the local board, state and national associations, spirit and civic activity.
Wilton-based Roedel Companies recently broke ground on a new Homewood Suites by Hilton at Riverbridge in Berlin, Mass. The hotel, which is expected to open in 2018, is a central component to Riverbridge, a mixed-used village on a 114-acre property adjacent to the Solomon Pond Mall. This is the 11th hotel owned or operated by Roedel Companies.
Muriel Robinette of Sanbornton has joined the engineering firm GZA's Bedford office. Robinette, who has more than 35 years of environmental consulting experience, has served as a senior principal at several industry firms and was the founder of her own environmental engineering firm.
The H.L. Turner Group Inc., Concord, has hired Paige Wilber as a project engineer. She is a recent graduate of Quinnipiac University's civil engineering program and was president of the American Society of Civil Engineers chapter.
Ambit Engineering, Portsmouth, has announced that Douglas J. LaRosa has joined the firm as a project manager. In addition to his more than 30 years of experience as a civil engineer LaRosa is a licensed septic system designer.
Waterville Valley Resort recently secured funding to begin work on Phase II of its $7.5 million capital improvements plan that began with the Green Peak Expansion in the fall of 2016. The program will bring multi-year infrastructure upgrades and improvements throughout the resort.
Whitney Belton, a recent graduate of the Rogers Williams University School of Architecture, Art and Historic Preservation has joined CJ Architects, Portsmouth, as a summer intern.
Jennifer Clark has joined TFMoran's Bedford office as receptionist/administrative assistant.
Bob Marchewka of One Commercial Real Estate, Portsmouth, recently represented Logan Properties LLC in the lease of 409 The Hill, a 4,000-square-foot property in downtown Portsmouth, to Nelson Enterprises, which will be renovating the building and opening a new restaurant on The Hill this summer.
Concord-based Sanborn, Head & Associates has announced the promotion of geologist Brad Green to vice president.