People and Property: NH Real Estate and Construction News Roundup
Kerkhoff named Manchester/Nashua Realtor of Year, Lodging Econometrics to be honored … and more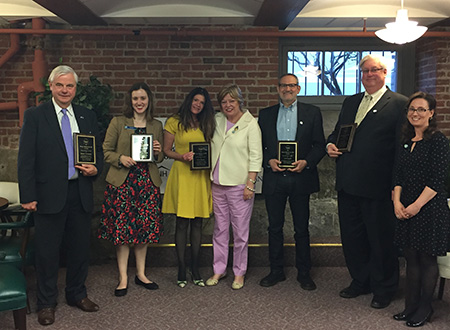 The NH Liquor Commission has announced plans to open a new 20,000-square-foot, energy-neutral NH Liquor & Wine Outlet in at the historic former Dover-Rochester-Somersworth Street Railway Trolley Car Repair Shop at 481 High St. in Somersworth, adjacent to Central Park on Willand Pond and the Tri-City Plaza.
Thanks to an extensive renovation, expansion and the installation of solar arrays and energy-efficient materials, the new Tri-City NH Liquor & Wine Outlet will be the first energy-neutral NH Liquor & Wine Outlet. Pending state and local approvals, the store should open in June 2018.
The new store will consolidate existing locations at 47 Chestnut St. in Dover and 5 Main St. in Somersworth.
Concord Housing + Redevelopment recently received its 10th consecutive "High Performer" recognition award from the U.S. Department of Housing and Urban Development's Office of Public and Indian Housing Real Estate Assessment Center. In the annual evaluation of public housing authorities, CH+R received perfect scores in the financial, management, and capital fund categories.
The Concord-based H.L. Turner Group Inc. has announced the addition of Barry Hoeg to its architectural team as a senior architect.
Merrimack County Savings Bank has opened a new branch office at the intersection of Route 3 and the Route 28 bypass, the bank's second office in Hooksett and ninth overall.
Matt Bradley of Haverhill, Mass., has joined the Bedford office of DuBois & King as a project engineer in the firm's Transportation Division.
Olympia Chimney Supply Inc., a designer and manufacturer of chimney venting systems, liners and accessories, has leased 18,000 square feet of space on Faltin Drive in Manchester, which will serve as the site of the chain's first New Hampshire location. Doug Martin of Colliers International's Manchester office represented the tenant and Charles Panasis of Brady Sullivan Properties and Aron Brown of NAI Norwood Group represented the landlord.
Maggie Kerkhoff of Berkshire Hathaway HomeServices Verani Realty has been named the 2016 Greater Manchester/Nashua Board of Realtors Realtor of the Year. Based in Amherst, Kerkhoff, who was honored at a May 11 awards banquet in Manchester, is a regional sales manager for the firm. In addition, the firm's Nancy Philbrick received the 2017 GMNBR Good Neighbor Award
Brown Brontosaurus, a Weare-based manufacturer of excavator mulchers, skid steer mowers, mulchers for mini-excavators and stump grinders, has announced a partnership with Michigan-based Integrity Truck & Equipment for the sale of its patented Brontosaurus land-clearing product line. Integrity is the first company to partner with Brown for sales and will be the premier dealership throughout the United States.
Brown Brontosaurus equipment is used for commercial and residential clearing, right-of-way maintenance, government and municipal vegetation management, forestry and landscape management, railroads, as well as wildlife habitat diversification.
Portsmouth-based Lodging Econometrics, a provider of information about hotel development and sales transactions around the world, has been named the 2017 Family Business of the Year by the University of New Hampshire Center for Family Business.
The firm and the Ford family will be recognized at the seventh annual Family Business Recognition Dinner, Wednesday, May, 24, at the Manchester Country Club in Bedford. The reception begins at 5:30 p.m., with dinner at 6:30 p.m., and the keynote address and awards at 7:30 p.m.
Tickets are $65 per person or $600 for a table of 10. For more information, visit, familybusiness.unh.edu/dinner or contact Barbara Draper at 862-1107 or barbara.draper@unh.edu.
Women's footwear maker Charm Step/Easy Street Shoe Corp., Rochester, has leased 19,223 square feet of warehouse/distribution space at 9 Great Falls Ave., Rochester. Andy Ward of Colliers' Portsmouth office procured the and lessee and represented the lessor, Great Falls Ave. LLC, in the transaction.
Colleen Casey has joined Roedel Companies, Wilton, as manager of administration.