People and Property: NH Real Estate and Construction News Roundup
Franklin Savings Bank breaks grown on Merrimack location, RE/MAX INTEGRA New England opens new brokerage in Alton ... and more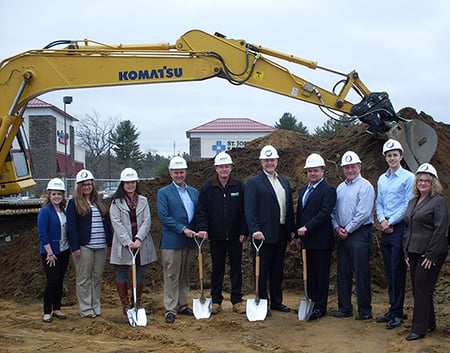 Franklin Savings Bank recently broke ground on a new location in Merrimack, the bank's eighth full-service location. The new office, located at 1 Dobson Way, will be situated on a half-acre parcel adjacent to the Merrimack Village Shopping Center. The new 2,161 square foot office will feature a two lane drive-up area, two ATMs, a technology bar along with digital displays to enable staff to demonstrate the bank's diverse line of electronic services to customers.
GZA GeoEnvironmental, Inc. in Bedford contributed to the New Hampshire section of the American Society of Civil Engineers' 2017 Infrastructure Report Card. The report was released earlier this month gave the state's infrastructure an overall grade of C- compared to a national cumulative grade of D+. GZA employees Claire Lund P.E., associate principal/vice president, and Tanya Justham, project manager/geochemist, co-authored the Hazardous Waste section of the report. Claire and Tanya volunteered their time to collect and analyze data; prepare, review, and revise the section; and issue the section a grade which was based on eight criteria – capacity, condition, funding, future need, operation and maintenance, public safety, resilience, and innovation.
Al Terry Plumbing, Heating & AC in Hooksett has recently been presented the Hooksett Kiwanis 2016 Small Business of the Year Award. The award is given each year to a business that demonstrates exceptional community involvement and leadership in the community.
RE/MAX INTEGRA New England announced today it will open a new brokerage, RE/MAX By The Lake, in Alton. Broker/Owner and industry veteran Don Roberts will lead The RE/MAX Collection office, expanding the brand's rapidly growing luxury division. This is the brand's first luxury office to open in the region, which will work to meet the growing demand from second and third time homebuyers who seek vacation homes by the New Hampshire lakes. According to the NH REALTORS® Association, Belknap County has experienced a 7.2% appreciation in the median sales price of residential homes over the past three years.
New England College has appointed alumni and founder/owner of NYC Apartment Management Inc., Adam B. Kapner, as a member of the board of trustees.Kapner has served on NEC's President's Advisory Board since 2016.
Charlie Head, co-founder of Sanborn Head & Associates, Inc., has been appointed to a one-year term as president of the Geoprofessional Business Association (GBA). He officially accepted office with the non-profit association for geoprofessional firms on April 7 in Washington, D.C.