People and Property: NH Real Estate and Construction News Roundup
Brookstone lands another Shipyard contract, Lakes Region hotel sold … and more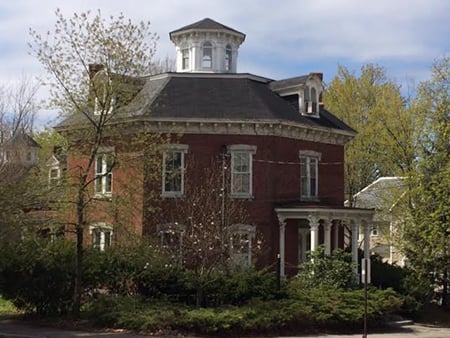 The White Mountain Athletic Club's expansion plans are underway in Waterville Valley with construction of a new outdoor aquatic center set to open in the summer of 2017. The new project will have a 1,600-square-foot "splash pad" as well as a 62,000-gallon pool with 25-meter lap lanes, family play areas, underwater benches, deck jets, underwater color lighting and a "pool temperature" whirlpool spa.
Quality Pools of Amherst will construct the pool and "splash pad," with Kelly Homes LLC supervising the project.
Jewett Construction of Raymond has begun work on renovation and expansion of McFarland Ford, Exeter. Designed by architectural firm DeStefano Architects of Portsmouth, the project includes interior and exterior renovations, a 1,200-square-foot showroom addition, and a 19,700-square-foot building addition. Anticipated completion date is September 2017.
Marketplace Home Mortgage has opened an office in Bedford, its first in New England, the company said. The office is led by Patrick Wesson.
North Branch Construction was recently recognized at the Associated Builders and Contractors NH/VT annual Excellence in Construction Awards ceremony at the Manchester Country Club in Bedford.
North Branch received an Excellence in Construction Award for the University of New Hampshire Holloway Commons Dining Hall Expansion and Renovation project in the "Institutional/Public $5-10M" category. North Branch also received an Award of Merit for the Laconia Central Fire Station Addition and Renovation project in the "Institutional/Public $2-5M" category.
Upper Connecticut Valley Hospital in Colebrook has set a capital campaign goal of $950,000 to expand and renovate the hospital. The fundraising effort has already raised $510,000 toward that goal.
The renovation will more than double the size of the current hospital emergency department while providing enhanced services and space for the rehabilitation department and specialty physician medical services. A groundbreaking ceremony was held in early October for the project and construction is currently underway.
Wason Associates Hospitality Real Estate Brokerage Group has successfully negotiated the sale of The 100-room Landmark Inn at 480 Main St., Laconia, by Invest Hotel Properties Inc. to the Ram Landmark Inn Trust, which includes members Mike and Ragi Patel who will be taking over the operation of the property.
The buyers also own and operate other hotels in the region, including the Econo Lodge Inn & Suites in Tilton.
Allan Rogers of Rye Beach has joined Carey & Giampa Realtors, Hampton. The firm said Rogers has over $270 million in sales during his 20 years of listing and selling real estate along New Hampshire's Seacoast.
Brookstone Builders Inc., Manchester, has been selected to perform a renovation project at the Portsmouth Naval Shipyard at Building 184 to accommodate relocation of personnel from another building, which is scheduled for demolition.
The project will include interior demolition, reconstruction of floors and utilities, lighting upgrades, the relocation of steam water and sewer systems, and the construction of a complete pre-fabricated office building within the shipyard's current paint blasting facility.
Brookstone is a subcontractor on the project, with CCI Energy & Construction Services LLC of Augusta, Maine, serving as primary contractor. Erik Crisman will serve as Brookstone Builders' project manager.