People and Property: NH Real Estate and Construction News Roundup
Another McIntosh College property sold, Milestone completes Nashua project … and more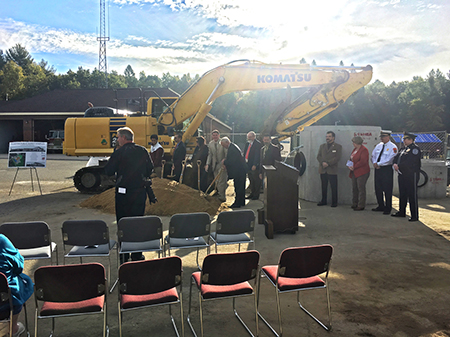 The New Hampshire Lottery is teaming up with the NH Home Builders Association to start a workforce development program using high school students to build 100-to-400-square-foot "tiny homes" for people who want to downsize. The program, will be discussed at a news conference 10 a.m. Thursday at Alvirne High School in Hudson, will engage students from career center construction programs at four high schools in the state. It will provide students with a chance to develop skills and experience to prepare them for the workforce.
Concord Housing + Redevelopment has announced the completed sale of 82 S. State St. in Concord to Lonsdale Properties LLC. The building, located in the southern end of the city, houses four residential units and one commercial space with on-site parking. Concord Housing + Redevelopment purchased the distressed property earlier this year and renovated the entire building, which is now fully occupied and performing at market rate rental values, CH+R said.
Wendy Keeler of Fairway Real Estate, Pembroke, brokered the initial sale and the most recent transaction.
Jewett Construction Co. Inc. of Raymond has started work on the 28,000-square-foot Premier Mazda dealership project in Plymouth, Mass. This project was designed by BKA Architects, Brockton, Mass., and will include a showroom, full-service drive, tiled shop floor and a comfortable lounge area for customers.
Chrysalis Counseling has purchased 112–114 South State St. in Concord, a 4,093-square-foot office building, from LuLu Holdings LLC. Brenda Litchfield of Concord Commercial Real Estate acted as advisor to Chrysalis owner Kirsten MacArthur. Lulu Holdings was represented by Scott Walker of Premier Properties Inc. According to public records, the property sold for $374,500.
Profero Management & Holdings LLC has sold 80 Rutland St., Dover, a 14,958-square-foot building on 8.82 acres near Exit 7 off the Spaulding Turnpike, to Restoration Church, Assembly of God. David Choate of Colliers International|New Hampshire's Portsmouth office represented the seller and assisted the buyer in the sale.
The property was formerly part of the McIntosh College campus. Bob DeColfmacker of Profero Management & Holdings LLC noted that this was the second of his four former McIntosh College properties to sell this year.
According to the Strafford County Registry of Deeds, the selling price was $1.3 million.
Choate also was involved in the lease of 10,584 square feet of office space at 111 New Hampshire Ave. at Pease International Tradeport by ConvenientMD. ConvenientMD leased the space from Seacoast Newspapers Inc.
Choate and Andy Ward of Colliers International|New Hampshire's Portsmouth office coordinated the negotiations for this multi-year lease.
Milestone Construction recently completed the Alec's Shoes facility in Nashua, a project that included the renovation of a former 40,000-square-foot manufacturing and office building into a new retail outlet and warehouse.
Construction included a new entrance to the building, exterior renovations, the retail store buildout, storage warehouse, shipping and receiving and a new landscaped entry.
The building was designed by Prellwitz Chilinski Associates of Cambridge, Mass.