People and Property: N.H. Real Estate and Construction News Rundown
Fulcrum's health care addition, Goffstown building sold … and more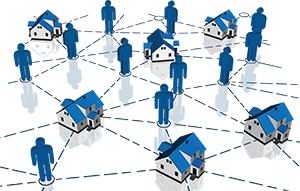 Fulcrum Associates of Amherst recently began construction of a 3,600-square–foot-addition at Primary Care of Hudson's facility. The facility also houses Immediate Care of Southern New Hampshire, Southern New Hampshire Rehabilitation Services as well as laboratory and radiology services. Fulcrum Associates partnered with Dennis Mires The Architects of Manchester on the design-build effort, with site engineering prepared by Hayner & Swanson of Nashua.
Gary Manoogian and Ralph Fair are leading the team for Fulcrum.
O'Reilly Enterprises has purchased 711 Mast Rd. in Goffstown, a 27,000-square-foot building that will be turned into an auto supply shop.
Mike Reed, president of Stebbins Commercial Properties, represented the landlord, Catco Realty Management of Bedford. According to the Registry of Deeds, sale price was $595,000.
Bernstein Shur attorneys George F. Burns and Michael R. Bosse have co-authored a book, "Building the Construction Case: A Blueprint for Litigators," published by the American Bar Association. The book is described as a roadmap for litigators, guiding them from the first meeting with a client through the end of a case. The lessons of the book apply to all types of construction projects.
"We hope this book will offer a practical benefit to members of the construction industry, both construction law specialists as well as non-lawyers," said Burns.
The Regional Economic Development Center of Southern New Hampshire has been awarded $300,000 in supplemental funding for the its brownfields fund by the Environmental Protection Agency.
Joseph Ashbury of Dover has joined Jewett Construction Co., Raymond, as assistant estimator.
TRB Development Group Inc., Hooksett, has begun renovating an existing building at 44 Winter St. in Boston. The project involves selective demolition and conversion of the upper three floors into 12 high-end apartments. Schopf Design Studio of Salem, Mass., is the architect.
In addition, TRB has started construction of a new 13,602-square-foot CVS in Acton, Mass., and recently completed renovations, site work and landscaping at 505 Pleasant Street Apartments in Malden, Mass.
The Carter Notch Inn in Jackson has been purchased by Dan and Donna Leyden from Richard Green and Sally Carter. Dick Badger, Realtor and senior partner of Badger Realty, North Conway, and OJ Robinson, business broker with CenterPoint Business Advisors of Franconia, handled the transaction.
The buyers were financed by Service Credit Union and the U.S. Small Business Administration.
Rachel Rowell has joined the staff of Cityside PM, Manchester, as a property manager. She previously was in a similar position at Harvard Management.
Ken Koornneef, president of Nobis Engineering, Concord, is joining the board of directors of CATCH Neighborhood Housing. Koornneef, a longtime volunteer with CATCH, also recently joined the board of the New Hampshire Center for Nonprofits. In addition, Liza Poinier, Intown Concord's operations manager, is joining the CATCH board as an ex officio member through the Greater Concord Chamber of Commerce's Board Leader Program.