People and Property: N.H. Real Estate and Construction News Rundown
Downtown Littleton, Portsmouth industrial space transactions … and more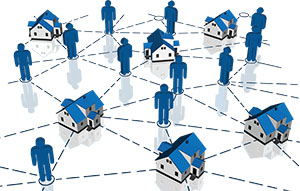 One of the newer buildings built in Littleton, the former location of the Village Book Store, has been sold to Emshika Alberini, owner of the Chang Thai restaurant, which is located next door.
The 12,000-square-foot brick building, with entrances from both Main Street and Mill Street, was on the market for $589,000 .
Alberini said he plans to open a coffee bar in half of the Main Street level. There are three other businesses in the building.
Peabody & Smith Realty commercial broker Mary Doherty, based in Franconia, represented the seller and assisted the buyers in this transaction.
Three units totaling 19,005 square feet of high-bay industrial and office space at 170 West Rd., Portsmouth, were recently leased by owner Litchfield Portsmouth LLC.
David Choate and Andrew Ward of Colliers International's Portsmouth office handled the transactions.
Unit 1 was leased to Modernist Pantry, an online culinary products retailer based in York, Maine, represented by Christian Stallkamp of CBRE|Portsmouth.
Unit 2 was leased to Core Elastomers, a plastics manufacturer that is installing a production line with plans to expand in place and open a two-line operation. It was represented by Chuck Goss of NAI Norwood Group.
Unit 3 was leased to Asia MedSource, a manufacturing sourcing company specializing in medical components procured in Asian markets. Colliers International assisted with Asia MedSource's lease transaction.
Robert E. Chaput Jr. has been named S.W. Cole Engineering's new president and CEO.
A senior geotechnical engineer with the firm and manager of the firm's Augusta, Maine, office, Chaput has worked for Cole for over 20 years.
Other management changes were made at the firm. They include:
• Chad B. Michaud, manager of the Somersworth, N.H., office is now chief operating officer and executive vice president.
• The firm's most recent president and CEO, Paul Kohler, is now senior vice president.
• Roger E. Domingo is now vice president of construction services.
• Timothy J. Boyce is now vice president of engineering.
• Gary Bucklin is now vice president of geoscience Services.
MSI Mechanical Systems Inc., Salem, is nearing completion on the second location of the new Tuscan Kitchen Brands restaurant in Burlington, Mass.
The new restaurant, located at 24 New England Executive Park, across the street from the Burlington Mall, is the second restaurant for owner Joe Faro. Plans include refitting an existing 9,000 square feet of existing office space on the first floor while adding an additional 4,800-square-foot addition.
The new restaurant, which will seat 543, 101 of which will be outside, is slated to open this summer.
Bryan Hussey has been promoted to vice president of sales at Exterior Designs Inc. and Metro Walls, and Steve Torla has been promoted to general manager of Exterior Designs. Both companies are located in Manchester. Exterior Designs specializes in exterior insulation finishing systems, and Metro Walls is a commercial framing and drywall company.
Center Harbor, NH, May 15, 2014 – Scott Rolfe, Branch Vice President of Coldwell Banker Residential Brokerage announced today that
Adrien Labrie Jr. of Moultonborough has joined the Coldwell Banker Residential Brokerage Center Harbor team. Labrie, who owned his own brokerage in Merrimack in the 1980s, also worked for Preferred Properties as an associate broker in the 1990s. Since then, he has been mostly involved as project manager for large construction companies.