People and Property: N.H. Real Estate and Construction News Rundown
Tax credit fees waiver for military, RFP for Durham town office reuse … and more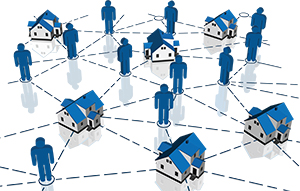 New Hampshire Housing is offering fee waivers and discounts for veterans and active duty service members as part of the Homebuyer Tax Credit, a mortgage credit certificate that provides up to $2,000 toward federal income taxes for the life of a purchaser's mortgage loan, as long as they pay the interest on the mortgage.
To qualify, you must be a first-time homebuyer, use the home as your primary residence and meet certain income requirements. Members of the military also must provide verification of service, and they will receive a waiver for the issuance fee if they have a New Hampshire Housing loan. Those who do not use New Hampshire Housing for their loan may receive a discount.
For more information and how to apply, visit gonewhampshirehousing.com.
The town of Durham is seeking qualified developers to submit formal proposals for the purchase and adaptive reuse or redevelopment of the former town office building on Newmarket Road.
An official RFP is available at ci.durham.nh.us.
The town said it is seeking proposals for an adaptive reuse retains the historic character of the building while accommodating new functions and incorporating the original building form.
Proposals must be received by Jan. 30. For more information, contact Economic Development Director Mary Ellen Humphrey at 603 590-1387 mehumphrey@ci.durham.nh.us.
Some 11,745 square feet of space in the Nackey S. Loeb School of Communications building at 749 East Industrial Park Drive in Manchester has been leased to Café Services Inc. Café Services, a corporate food service provider to over 180 locations across the Northeast and Mid- Atlantic regions, has signed a five-year lease.
The company is currently based in Londonderry and needed more space. Deanna Caron of Stebbins Commercial Properties represented the landlord, The Nackey S. Loeb School of Communications Inc., and assisted the tenant. The building is now fully occupied.
Jewett Automotive Design & Construction, Raymond, has completed renovations to the Herb Chambers Ford dealership in Braintree, Mass.
Engineered and designed by Regent Associates Inc. to comply with Ford Motor Company image upgrade requirements, the project entailed 31,800 square feet of interior and exterior renovations.
Red Oak Apartment Homes Inc. has acquired Richmond Vista Apartments, a 206-unit complex of apartments and single-family homes, in Manchester. The complex's name will be changed to Redstone Apartments.