People and environment are key at GeoInsight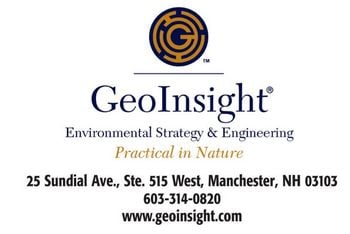 Not every business can take a former landfill and turn it into a ballfield, but it's the kind of issue GeoInsight solves every day.
Since 1993, GeoInsight has been providing a full spectrum of strategic environmental and engineering services from its corporate offices in Manchester, N.H., and facilities in Cheshire, Conn., and Westford, Mass.
"We look for those projects where you're not only solving an environmental issue, but revitalizing a community or restoring value to a client's assets as well," said John Gilbert, president and CEO.
GeoInsight rehabilitated an old landfill in Goffstown, stabilized the slopes, and built an impermeable cap. GeoInsight's engineers literally leveled the playing area, creating a flat surface for the construction of a ballpark and playing fields.
GeoInsight is very effective in its market because its employees "dig harder and deeper" to find sound solutions that match its clients' specific needs.
"We manage our clients' money like our own," said Gilbert. "We guide our clients through the engineering and environmental maze. We're very focused on seeing clients' problems through their eyes."
Close relationships are apparent inside the company as well.
"Our central core value is stewardship to our clients, our 65 employees, and the environment," said Gilbert.
GeoInsight employees are offered full medical and financial benefits, as well as flexible schedules. The company supports employee outings, such as paintball games, river rafting and skiing.
"We look for an appropriate balance in fun and in business," said Gilbert.
GeoInsight also has an open-book financial policy. "We want our employees to know how we're doing. It helps them to understand the business issues our clients face and to better connect to their responsibilities," said Gilbert.
GeoInsight also has instituted an employee stock ownership plan.
Another example of GeoInsight's strategic approach involved the dredging of the Cocheco River in Dover.
"It was an old colonial port and hadn't been dredged since 1905," said Gilbert. "There was contamination of the river sediment from the old tanneries, shoe factories and a manufactured gas plant."
The company completed the permitting for the dredging activities and design, bidding and construction oversight for an upland dredge spoil cell within the city's six-month timeframe. Completion of the dredging will dramatically increase access to the historic port for local boats.
"We were also able to build the upland cell for the dredge material on top of an historical landfill that had not been capped, solving two issues at once," said Gilbert.
The future is bringing new strategic markets to GeoInsight as well. As climate change is being studied and discussed, GeoInsight is evaluating how best to serve potential client needs with regard to energy management, such as audits to help reduce a firm's use of fossil fuels and emissions credits trading.
For now, GeoInsight will continue to provide its clients with strategic environmental and engineering services from its core competencies of site investigations, remedial and redevelopment engineering, geotechnical engineering, water supply development, permitting and compliance.
The NHBR Business Profiles section contains content provided by New Hampshire Business Review advertisers.