Peninsula-wide property on Lake Winnipesaukee up for sale
16-acre property located along stretch where "On Golden Pond" was shot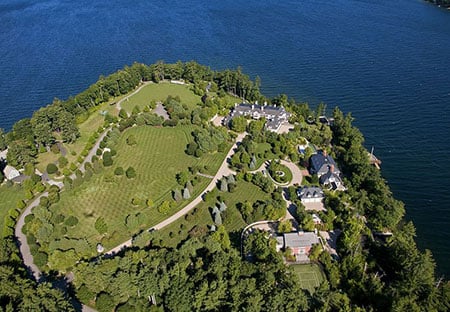 At one time asking $49 million for 142 and 144 Hopewell Road in Alton, the owners of the 16-acre property with two estates and 1,594 feet of lake frontage have now reduced the asking price to $19.8 million and added abutting land.
Luxury property firm LandVest Inc. did not respond to NH Business Review's requests over why the price had been reduced, but in a press release LandVest broker Kristin Claire said, its owners no longer reside in the area, "and their goal is to pass on this fabulous property for someone else to enjoy." In the same press release the company also noted the property is available in lower-priced configurations.
That being said, LandVest Inc. says the property is New Hampshire's "most expensive estate" and is priced "well below its assessed value".
Built between 2004 and 2007 by the Bahre family, the founders of NH International Speedway, the property totals over 63,000 square feet of living space. It includes a 7,655-square-foot reproduction post and beam entertainment barn, a tea house, boat houses and a secret hidden room.
"Of the three homes above $10 million available for sale in New Hampshire, this property, priced below the town's assessment and at about a third of what the owner invested, offers the greatest value," said Claire.
Named "Longview on Lake Winnipesaukee", the property sits at the southern end of the "Broads," the famously wide, open stretch of Lake Winnipesaukee, where some of the boating scenes from the 1981 Academy Award-winning film On Golden Pond were shot.
The property was designed as a playground for entertaining family and speedway celebrities. Famous guests at the Bahre's annual summer tent parties have included Diana Ross, John Fogerty and "prominent New Hampshire and national public figures", says the press release. The guest bath in the entertainment barn includes visitor's signatures on the wall.
Both homes on the property have a movie theater and gym. The 144 Hopewell house features an entertainment wing with a rich wood-paneled bar and billiard rooms, and a grand ballroom with French doors opening to the terrace overlooking the lake.
Longview also has an infinity-edge pool with a swim-under waterfall spilling over a grotto.
"Inside the grotto there is a hot tub, creating the sense of soaking inside a secret cave behind the waterfall," said Claire. "This is but one of the many aspects of the property that exemplify the owners' mantra of 'The best things are really fun.'"
The property also includes remnants of the Alton Boy's Camp, including a granite amphitheater and stone pavilion built out onto the lake with a one-room cottage set out at the water's edge, two oversized stone boathouses with two and three bays, stone breakwaters, a sand beach, tennis court and a grass helipad with lighting and tiedowns.