Penacook affordable housing project gets big boosts
Plan for former brownfields site wins CDFA, NHHFA funding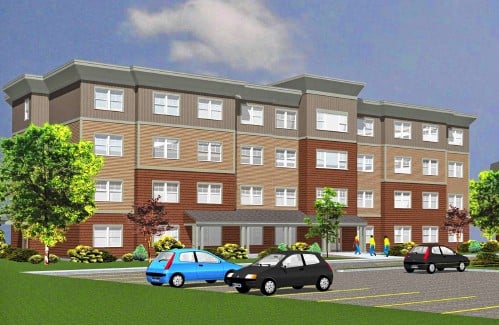 Plans to build a 54-unit affordable housing complex at the site of the former Allied Leather Tannery property in Penacook have taken a big step forward following decisions by the NH Housing Finance Authority and NH Community Development Finance Authority.
The Caleb Group, a nonprofit affordable housing developer based in Swampscott, Mass., is proposing the project, known as Penacook Landing.
The project is to be developed in two phases. Phase I is made up of 34 housing units; of which 31 will be affordable for households meeting U.S. Department of Housing and Urban Development income criteria.
On Oct. 25, the New Hampshire Housing Finance Authority awarded the Caleb Development Corporation an allocation of $714,000 in Low Income Housing Tax Credits for the project, which will generate approximately $5.95 million in funding for the project.
On Nov. 1, the CDFA awarded the city $500,000 in Community Development Block Grants for demolition and other site work activities for the project. That followed the Oct. 25 decision by the NHHFA to allocate $714,000 in Low Income Housing Tax Credits to The Caleb Group for the project, essentially generating some $5.95 million in funding.
In May 2017, the Concord City Council agreed to sell 2.5 acres of the four-ace brownfield site to The Caleb Group for $540,000. The city is retain ownership of the remaining acreage along the Contoocook River for a riverfront park.
Total development budget for Phase I is approximately $7.6 million.
The Caleb Group has secured development permits and approvals for the project from Concord's Zoning Board of Adjustment and Planning Board.
Demolition and site work activities by the city are expected to be completed using CDBG funds by spring 2019. After that, the property will be conveyed to The Caleb Group to begin construction of their affordable housing development. It is anticipated that the first phase will be completed in early summer 2020. Caleb plans to develop the second and final phase of the project with 20 additional units of housing in 2021, depending on funding, officials said.