Pease picks up the pieces after Skybus departure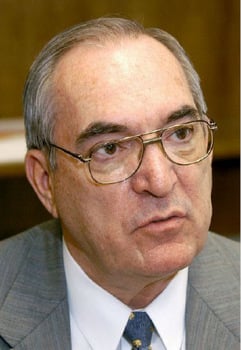 Late in February, Skybus Airlines founder Bill Diffenderfer, speaking at a Greater Portsmouth Chamber of Commerce breakfast forum, predicted a bright future for the budget-priced air carrier.
But only weeks later, Diffenderfer had resigned and the airline filed for bankruptcy and ceased operations. The shutdown, less than a year after the airline's launch, left Skybus travelers stranded, creditors seeking payment for aircraft and services, and an empty passenger terminal at Pease International Airport in Portsmouth.
The airline was the latest to offer regular passenger service at Pease, and the latest disappointment to those who want to see the airport prosper.
"We thought Skybus was going to be the answer to our prayers to having regular passenger service out of Portsmouth International Airport," said Art Nickless, chair of the Pease Development Authority, which oversees the airport. "The Skybus thing was such a crushing blow because it's exactly what everybody wanted — daily flights to locations people wanted to go at reasonable prices."
Nickless joined the PDA board at a time when Las Vegas-based Allegiant Airlines was providing service from Pease to Florida. That carrier is still flying, but pulled out of Pease in July 2007.
"They had great passenger loads," Nickless pointed out. "That's the silver lining to all this. Any airline that's looking to come to Portsmouth has got to look at the passenger loads. Every airline that has been here has all had great passenger loads."
In the 1990s, Delta Airlines and the now defunct Pan Am also attempted to establish regular passenger service at Pease. Both were unsuccessful.
Pease Development Authority Executive Director Dick Green said that Skybus was successful — at least at Pease. "They had high passenger numbers here, so we were certainly on the top of their list in terms of the success that they were having at the time," he said.
Scaled-back plans
The PDA is one of a number of creditors as the defunct airline seeks to liquidate assets at Bankruptcy Court in Wilmington, Del. Green said that the PDA isn't looking for money currently owed by Skybus to the agency. During the carrier's 10 months of operation, he said, Skybus paid its bills for leasing facilities at Pease right up until the time it went out of business. But the lease was written for a three-year period, and the PDA is attempting to recoup the money owed for the rest of the contract.
The PDA isn't the only local Skybus creditor. C&J Trailways, Seacoast Aviation Cargo and Port City Air are on the list as well.
Port City Air, which provided baggage handling for the airline is seeking $150,000 owed by Skybus. It has had to lay off 30 employees involved in the operation.
Beyond the legal proceedings, which are certain to drag on, the matter at hand concerns the future of passenger service at Pease.
An ambitious renovation and expansion project to improve the terminal for arriving and departing passengers has been scaled back, by a million dollars. Originally, plans called for a $4 million interior redesign, including an expanded baggage-handling area, along with a larger passenger waiting section and expanded rental car facility. Those improvements have been shelved based on the lack of activity at the terminal. The PDA is now calling the project a remodeling of the interior.
'Good alternative'
The PDA is once again searching for a new carrier to serve the airport. The agency is talking with other airlines, but Green wouldn't disclose which ones. But he said he is optimistic that the airport will once again serve the public.
"We still haven't given up on the idea of making Portsmouth a passenger connected airport where people can fly out of here conveniently," said Green.
Michael Mooney, an airline analyst for The Boyd Group — an aviation consulting firm based in Evergreen, Colo. — credits the PDA with doing a good job recruiting airlines to serve the former Air Force base. "It's just bad luck in this case in terms of the carriers that have been recruited and their ability to survive in the airline business, which is a difficult thing to do for start-ups and smaller carriers," he said. "It's just a very difficult business to find your feet in and find long-term profitability."
Mooney characterized Pease as a "good alternative airport for the north side of Boston, people in southern Maine and eastern New Hampshire. There's nothing wrong with the fundamentals here." He said that in a strong economy with reasonable fuel prices, air service would come into Pease.
"Right now, we've got a situation with fuel prices that absolutely stifles most airlines' ability to look at any kind of expansion. Fundamentally, just about any airplane type that you fly in your fleet can't make money or barely break even." he said.
But once the economy strengthens and fuel prices moderate, Mooney said, the airline industry should change for the better. "I think we'll get back into a situation where the congestion issues at Boston-Logan will become more significant," he said. "In that environment, there ought to be a place for some sort of air service at reliever airports around Boston-Logan, and that includes Pease."
PDA Chairman Nickless is confident that the airport at Portsmouth will ultimately succeed. But one challenge is the public's perception about reliable service. "Once we do attract another airline, I think the public is going to be a little bit careful. They will be asking the question, 'Am I going to get to Florida and then have to find another way to get back?' like a lot of people had to when Skybus went out."