Paving the way for green roads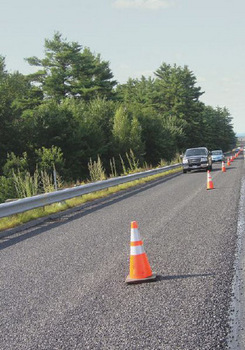 Over 4.5 billion tons of waste is generated in the United States on an annual basis. Many of these materials have been or are presently under consideration as aggregate substitutes in highway construction.
In theory, the recycling of these waste materials into the highway environment conserves valuable natural resources and makes use of materials frequently considered as wastes.
In Europe and Japan, many recycled materials are already routinely being used in highway construction. The relative scarcity of natural virgin aggregates in these highly industrialized and populated regions of the world has driven a more institutionalized approach to the use of recycled materials in road building.
Throughout the United States — and particularly in more urban areas — those involved in road construction projects confront an increasing range of sensitive issues involving air, water, land, building materials, energy use, biodiversity and social capital (an index of social productivity and quality of life) as they embark on almost any highway improvement or construction project.
The use of recycled materials in highway construction is only one aspect of a much more complex matrix of issues facing highway engineers and planners in the United States today. In conducting its research, the Recycled Materials Resource Center at the University of New Hampshire takes into consideration the use of recycled materials as it affects — and sometimes even positively addresses — the many other issues that highway engineers and planners face today.
Similar to the green buildings program established by the US Green Building Council — which triggered a boom in green building construction — a green roads program, it is believed, will give the green light to sweeping reforms in the way we build roads.
One of the key roles of the RMRC — funded by the Federal Highway Administration and pooled state highway funds as well as Environmental Protection Agency grants — is to ensure that whatever recycled materials we use in road construction are safe, cost-effective and function as well — or even better — than virgin materials.
Wastes used or under consideration for use in the United States include reclaimed asphalt pavement (RAP), Portland cement concrete (PCC), recycled concrete pavement (RCP), coal fly ash (CFA), waste tire products (crumb rubber, chipped tires), blast furnace slags, steel slags, coal bottom ash, MSW incineration bottom ash, construction debris, foundry sands, mining wastes and contaminated soils.
Some of these materials — such as RAP, RCP and CFA — are already widely used in highway construction. The use of many other waste materials has been done on an ad hoc basis and frequently limited to regional or state demonstrations driven more by local pressures to avoid disposal of the wastes
Over the past several years, there has been an increased interest in the use of recycled materials in highway construction. But this interest and support — from the Federal Highway Administration, the Transportation Research Board, the American Association of State Highway and Transportation Officials and the EPA — has been mired in political, institutional and engineering property issues for over a decade.
There has been no central research or outreach focus to these efforts. UNH's RMRC — under the direction Dr. Kevin Gardner, who established the RMRC in 1998 — can play an important central role to help coordinate these efforts.
The RMRC faculty has joined with the UNH Stormwater Center to account for both environmental and social impacts of road-building, as well as establish better uses of recycled and virgin aggregate materials.
Green standards, according to Gardner, will give road builders the guidelines they need to effectively reduce the environmental impacts (such as carbon footprint and wetlands disturbance) and improve the quality of life in communities affected by infrastructure re-construction.
Understanding cost
The first step is to figure out how to reduce the 300 million tons of virgin aggregate materials mined in this country every year. The United States currently recycles 90 percent of used asphalt, but still uses a large percentage of virgin materials in the recycled mix. The question is, can a durable pavement be made with 90 percent recycled asphalt, or does it have to be closer to 40 percent, or even 20 percent, to get a roadbed that lasts?
"The cost of building a road is not reflected fully in the price of materials," Gardner adds. "The total cost of mining virgin materials, for instance, involves not only the cost of materials and labor, but also the environmental cost at the mining site, the environmental costs (such as air pollution and its associated health-care costs) of transporting these materials to the building site and the environmental costs of building the equipment to mine and transport material and build the roads."
To account for these hidden costs, the RMRC created a computer model uses to capture the full environmental, social and material costs of road-building. The model was recently "road-tested" in the Pittsburgh, Pa., region to help identify the significant influence that materials recycling can have on regional air quality, hazardous waste generation, greenhouse gas emissions and other environmental impacts.
"A lot of the infrastructure in this country needs to be rebuilt," said Gardner. "We have a real opportunity to rebuild the infrastructure the right way with sustainable materials and socially sensitive designs that protect air, water, land and human resources."
According to Gardner the first green roads "will probably start with small housing developments and municipalities, because developers and local developers have already seen the benefits of green building construction. But as the benefits and cost-savings begin to be realized on a bigger scale, we believe the RMRC green roads program will pave the way for rapid adaptation at all levels of road-building."
This article originally appeared in a longer version in the May/June 2008 issue of New Hampshire Highways, a magazine published by the New Hampshire Good Roads Association. For more information, e-mail nhroads@aol.com.