Passionate Hudson official mourned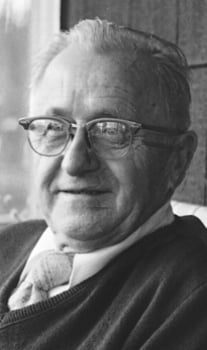 HUDSON – A staunch advocate of open meetings, John Bednar was also well known for the many controversies that swirled around him.
The longtime, outspoken politician died Tuesday. He was 91.
Known as the father of the Right-to-Know Law, Bednar was a state representative for 16 years, a selectman for 12 years, a Town Council member for four years, and served on the Sewer Utility Committee for eight years.
He was also credited for his work on a bill resulting in the Taylor's Falls Bridge connecting Nashua and Hudson.
"I have a healthy respect for him," Sewer Utility Committee member Catherine Valley said.
Bednar was "supremely opinionated" and tended to be confrontational in his approach, she said. She remembered him yelling, "You don't understand" at her when the two of them disagreed about something.
"Everyone always knew how he felt about something," Valley said.
Politics was very personal to him, said state Rep. Shawn Jasper, a former selectman.
"If you were against him on something, you were against him on everything," Jasper recalled.
It was not uncommon for Bednar to call people names, such as "dunderhead," Jasper said. He also used to call fellow selectmen and town councilors "cementheads."
"I know people thought he was obstinate, difficult. I never found him that way," said attorney Brad Westgate. "He was a lot of fun."
When asked to describe Bednar, Westgate responded with a list of adjectives: unique, provocative, interesting and creative.
Bednar had a true academic and emotional attachment to government, Westgate said.
"He saw issues and had definitive ideas on how they should be solved," Westgate said.
Bednar also had a thirst for knowledge, always wanting to know what was going on behind the scenes, he said.
In the mid-1980s, Westgate and Bednar worked together on a charter commission studying the town's form of government.
When the commission recommended a town manager/town council form of government, it needed current census data to form nine districts. Since the information was slightly outdated, Bednar conducted a personal census by looking at town records, making phone calls and walking around town.
"That's the kind of effort he put into things," Westgate said.
Bednar was also a vocal supporter of open meetings, citizens' rights to information and low taxes, and was a main sponsor in the Legislature of the bill creating the Right-to-Know Law.
"He worked extremely hard for causes he believed in," Jasper said. "He really created a lot of controversy about whatever he felt passionate about."
He focused on keeping taxes low, often criticizing the school and town budgets, Jasper said. He also passionately defended the public's right to know, Jasper said.
"He felt very strongly that too much went on behind closed doors," he said.
The Town Council once voted to expel Bednar after he released a memo from the town attorney marked confidential. He argued that the council had not voted to seal the memo.
More than 450 residents signed a petition asking the council to hold a public hearing on its decision.
"He was very big on the public knowing everything that went on in the process," Westgate said.