Partnerships key to attracting, keeping firms in N.H.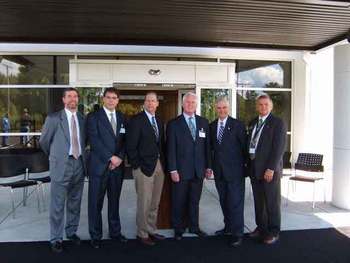 Vibro-Meter Inc. knows how critical partnerships can be to business success.
In fact, it was the firm's work with the New Hampshire Business Resource Center that convinced it to make a $12 million investment in New Hampshire rather than move to California.
Vibro-Meter – which recently held a ribbon-cutting ceremony at a new $12 million, 60,000-square-foot corporate headquarters and manufacturing facility at 144 Harvey Rd. in Londonderry – is a manufacturer of optical flame detection systems, oil/fuel monitoring systems and aerospace engine sensors and indicators, serving both the military and civil markets. The company was incorporated in New Jersey in 1922 as the Daven Radio Corp. It expanded through mergers and acquisitions over the next 80 years, changing names several times, and relocated to New Hampshire in the 1940s. It became Vibro-Meter Inc. in 2002.
"The lease at Vibro-Meter's previous location (the Manchester-Boston Regional Airport) was due to expire in March 2006 after 40 years at that location," said Dr. Richard Greaves, managing director of Meggitt Aerospace Systems, Vibro-Meter's parent company. "The approaching deadline compelled Vibro-Meter to consider numerous options for this business, one of which was merge the New Hampshire operations to another facility out of state. However, the strong support received from both the state and congressional delegations and the broader community facilitated the decision to remain in New Hampshire."
Vibro-Meter started working in late 2001 with Thomas Farrelly, a commercial real estate broker with the New Hampshire office of Cushman & Wakefield. Also involved in the discussions were John R. DiNapoli, business development manager for the New Hampshire Business Resource Center, Jack Donovan of the state Business Finance Authority, Jane Hills, formerly of the Manchester Economic Development Office, and Andre Garron, Londonderry planner and economic development director.
Combined, the partners identified several sites and financing programs for the company to consider. DiNapoli also completed a detailed tax comparison of New Hampshire and California and Massachusetts. The comparison showed that the company might save $2.6 million by not moving to California. It also showed possible savings of over $3.1 million by staying in New Hampshire and not moving to Massachusetts.
"Our incentives are different from other states. Our philosophy toward economic development is different," DiNapoli said. "We don't believe in providing financial subsidies to companies relocating to New Hampshire. Generally, subsidies have a finite life, and after they end, the recipient becomes subject to the taxation necessary to generate all future subsidies. In New Hampshire, we concentrate our efforts toward minimizing all taxation and allowing companies to maximize their profits year after year."
Power of partnerships
Vibro-Meter found the right property, a vacant electronics facility, in the spring of 2006. The property was listed with Michael Monks of Monks & Co.
The company then brought in Brian Gallagher of Dacon Corp., a design-build firm and New Hampshire Commercial Investment Board of Realtors affiliate member, to come up with an estimate of how much it would cost to transform the building into a world-class headquarters and manufacturing facility.
"The entire project took less than five months from start to finish. This doesn't happen every day," said Gallagher. "We've worked with John DiNapoli on other projects over the years and find his can-do attitude contagious. His knowledge of the market, of the benefits of investing in the state of New Hampshire and his all-around work ethic assisted us in fast-tracking this important project." nhbr
This article was provided by the New Hampshire Business Resource Center. For more information, contact John R. DiNapoli, business development manager, at 271-2591, ext. 114.