Parents, kids learn about afterschool programs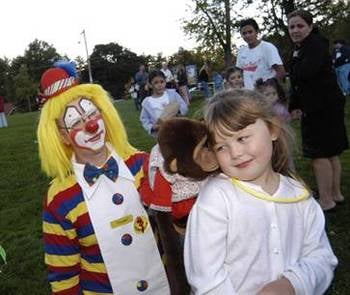 NASHUA – Eight-year-old Alisha del Llano was still jumping up and down minutes after exiting an inflatable bounce house. Of all the activities Wednesday evening, she said it was her favorite.
Her 4-year-old sister didn't say what was her favorite part of the night, but her pink-stained cheeks and the empty stick in her hand suggested the cotton candy.
Their dad, Bernie del Llano, wasn't quite so interested in the fun and games. While his children bounced around the lawn of Greeley Park, he and his wife, Kathleen, learned about afterschool opportunities for their small enthusiasts.
The del Llanos were among hundreds of parents and children who attended the Lights On Afterschool rally in Nashua. The event, part of a national program to raise awareness about the importance of afterschool programs, offered parents an opportunity to learn and children a chance to play.
"Parents get to understand what's out there for afterschool resources," Bernie del Llano said. "It's good to understand what's available."
From 5-7 p.m., representatives from organizations like the Boys & Girls Club of Greater Nashua, the YMCA of Nashua and 21st Century Community Learning Center had tables on the lawn full of information about their afterschool programs.
Children's activities included face painting, a beanbag toss, an inflatable slide, a putting green and two bounce houses. Storytellers, four clowns and mascots from the Nashua Pride and New Hampshire Fisher Cats entertained the kids.
In the next few days, more than 7,000 similar events will take place around the world. Afterschool Alliance – a nonprofit organization that hopes to provide all children access to afterschool programs by 2010 – started the event five years ago. Since then, thousands of communities have held a Lights On Afterschool rally in their area. This year marks the second year for Nashua.
Jen Rinehart, associate director of the Afterschool Alliance, said every community holds a different form of the rally. Some gather at museums, others at basketball games or retail stores.
"The Lights On activities are as diverse as the afterschool programs that are putting them together," Rinehart said.
Racheal Smith, a single mother of two who works for 21st Century, attended the Nashua rally because she thinks afterschool programs are ideal for single parents who work full time to support their children.
"It's income-based. It's cheaper than sending the kids out to baby-sitters, and the kids really enjoy it," Smith said.
John Cepaitis, director of the 21st Century Program, said afterschool programs are valuable because they keep children off the streets and encourage them to be more involved in school. The more involved children are now, the less likely they are to drop out later, he said.
"People don't think of it or don't realize it, but the time young people participate or get involved in risky behavior is between 3 o'clock and 7 o'clock in the evening," Cepaitis said.
He said the rally was an opportunity to celebrate the safety and education afterschool programs provide while raising awareness about the need for more to be established.
George Panteli is a parent who appreciates the benefits of such programs. He works full time and his wife works three days a week. On the evenings his wife works, his daughters, ages 7 and 5, attend afterschool programs.
While his daughters waited in line to have their faces painted, Panteli said the programs allow the girls to get additional education after the school day ends while participating in arts and crafts and learning social skills.
"It's a continual education that's not as structured but allows them to interact with other kids," Panteli said.
Del Llano agreed. In front of the stage at Greeley Park, he began talking about how afterschool programs supplement a child's education when he was interrupted by Alisha.
"And it's fun," she said, jumping up and down. "I love arts and crafts."
"Yeah, fun," her sister repeated, licking the cotton candy from her lips.