Page Street stresses efficient, quality service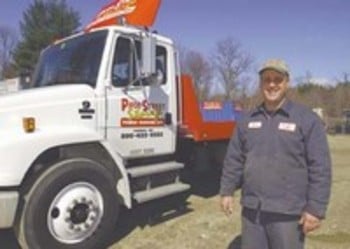 Have you driven past a job site or expanding business and wondered where those modular offices and large container units came from? If those businesses are in the Manchester area and elsewhere in New Hampshire and northern New England, chances are they came from Page Street Storage Trailer Rentals.
The Candia-based company is a thriving example of what business in New Hampshire is all about.
Page Street is a family-owned business that opened in 1984 with just three employees, two of whom were father and son. The business quickly grew, something Vice President Michael Tremblay, the "son" in the founding team, attributes to his father, Roger. "My father has done business in the area for 45 years," he said. That longevity led to an insider's knowledge of local business needs, something Tremblay stresses other, national companies have a hard time matching.
In 1986, Page Street moved from Manchester to Candia to accommodate a rapidly growing product line.
"We started with just 10 trailers. Now, we have thousands," said Tremblay.
Today, Page Street offers 15- to 50-foot office trailers, as well as 20- and 40-foot ground-level containers and 28- to 48-foot storage trailers. Storage units are fire-resistant, watertight and hurricane proof and come in a variety of colors. Because they are portable, they do not require a foundation or special footings. They are also much more economical than building an additional structure.
Page Street suggests a number of other surprising uses for its durable modules, everything from storage for boats, garden supplies, grounds maintenance and golf equipment — even a work shed or horse stable.
Tremblay stresses Page Street's fast, efficient and quality service. The firm has a large inventory and the equipment to deliver containers to your site. And if anything should go wrong with your container, it offers fast, reliable service.
"Page Street is a family-run business that is locally owned and operated," said Tremblay. "You are a person to us, not just a number."
For more information on office and storage trailers and containers, call Page Street at 622-1673 or visit at www.pagest.com.