Outsourcing: the good, the bad and the inevitable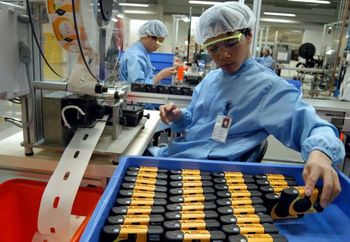 Outsourcing is either the smartest business practice since the development of the assembly line, allowing companies to shave double-digit percentage points off their bottom lines, or the most repugnant, directly responsible for exporting good-paying U.S. jobs overseas.
"Outsourcing is the hottest labor market issue we've had in some time," said Dennis Delay, special project director for the Workforce Opportunity Council and former Public Service of New Hampshire economist. "Ross Perot's prediction of the 'giant sucking sound' of manufacturing jobs going to Mexico has come and gone from that country to China."
"Outsourcing" is actually an umbrella term for several types of work arrangements contracted for by a primary company.
What most people think when they hear the term is work done beyond the shores of North America, also known as "offshoring." "Near-shoring" is work done at a provider in Canada or Mexico. "On-shoring" more closely resembles the work done by contractual providers within the United States.
Outsourcing is not a new concept. As Matthew Slaughter, international economist and associate professor of business administration at the Tuck School of Business at Dartmouth College, said, "in reality, it's been going on for centuries."
The textile industry, for instance, moved from New England in the mid-1900s to the South and eventually to Mexico and the Far East in the 1970s.
In fact, said Delay, "if you think about it, we stole textile jobs from England in the 1800s."
In the 1980s, manufacturing operations began to move overseas. Even in the mid- to late-'90s, U.S. firms began experimenting with outsourcing their call centers and programming functions to other U.S. companies or to Ireland or Scotland.
James McKim, a technology business owner and chairman of the Software Association of New Hampshire, said the primary goal of most companies outsourcing work to other countries is "to reduce their cost per hour of labor."
Labor, said McKim, "is the biggest cost of any company. A top-notch programmer here in the U.S. is about $55 per hour and a top-notch programmer in China or India is $15."
According to Slaughter, "offshoring is all about comparative advantage. What you can do better than anyone else stays at home. The things that you can't do so well get shipped out."
Another reason companies outsource work to other countries is to gain access to foreign markets, said Slaughter.
"Ninety-six percent of the world's population lives outside the U.S. And with many countries experiencing rapid growth, how can you access those markets? Traditionally, you could export, and exporting is OK. But the ones that have affiliates abroad made more money through affiliate sales."
He said for every dollar made from exporting, nearly three dollars were earned in sales from affiliates located abroad.
"Some companies, like service industries, can only expand this way," Slaughter said.
Adapting to outsourcing
That might be true for some companies, but not for Electropac.
The Manchester-based printed circuit board manufacturer is noted for its steadfast refusal to offshore its manufacturing processes. But it hasn't been easy, said Electropac president Ray Boissoneau.
"We saw the offshore writing on the wall long before the tech boom. We even considered it and actually negotiated with a firm in China," said Boissoneau. He said Electropac then analyzed its size and goals and realized the company was "too small to play in that arena."
Boissoneau also saw another pattern emerging among companies that outsourced. "Those that manufactured locally and abroad defeated their own domestic strategy. Because pricing was better offshore, obviously the customer would want that price, forcing the company to downsize domestically."
Armed with that information, Boissoneau decided four years ago to focus only on domestic business and not compete with those that offshore, significantly adapting his business model.
"We had to work hard and create a larger sales force. For years, we were a regional supplier. We had to become a national supplier," he said.
Boissoneau pointed out that there will always be a certain percentage of customers that manufacturer for domestic use and needs. "They become your customer base."
But for mid-sized and larger companies, that might be harder to do, Boissoneau said, adding, "those that are manufacturing large quantities have to go offshore to remain competitive"
Both McKim and Slaughter said that the cost-savings experienced by companies that ho offshore work does translate into cheaper prices for business customers and consumers.
"Cheaper production costs have resulted in lower pricing, for now," said McKim. "Competition is also increasing, so companies have to reduce prices to remain competitive."
'Overworked' fears?
Slaughter said it's a common perception that hiring overseas means fewer jobs in the United States. Not so, he said. "While job losses are certainly true for some companies, statistics have shown that, generally, increased hires abroad also have complimentary increases here."
He said the phenomenon has been due to smarter and faster production increases which translated to more research and development, functions that still tend to be home grown.
"In the last ten years ending in 2001, U.S.-based multinational companies added 2.8 million jobs abroad, but they also added 5.5 million jobs here. Those companies experienced faster job growth than the U.S. economy," said Slaughter.
But not everyone benefited from that 2-1 job increase. "Did all firms experience this? No way. But that was the trend," said Slaughter.
What has brought offshore outsourcing to the forefront has been the swift migration in the last three or four years of large numbers of jobs requiring high levels of education, such as programming and engineering, coupled with an economic downturn. This was all on the heels of one of the largest economic booms in the nation's history — largely centered in the IT sector, which has made the change taking place seem even more devastating.
"I believe the fears have been overworked," said Delay. "If you look at the number of jobs lost to offshoring, it really pales to the jobs lost for other reasons."
He cited figures from Economy.com, a leading independent provider of economic, financial and industry research, which show that about 6,700 jobs were lost in the United States per week due to offshoring. "By comparison the number of new unemployment claims was 300,000. Outsourcing represents only about 2 percent of the jobs lost," said Delay.
But, he added, despite these figures, "there certainly is an impact to the folks laid off."
While McKim said "more layoffs have occurred due to productivity gains through labor automation than outsourcing," he admitted that it's "a very difficult time for those displaced and no one has any answers."
Economic impact
Outsourcing proponents say the practice is actually good for the economy in the long run. "We need to look at offshoring as part of the larger free-trade economy," said McKim. "And assuming free trade is good, we can't go back into a protectionist mode."
Delay cited a March 2004 study conducted by the Information Technology Association of America, which estimates IT offshoring actually created 300,000 new U.S. jobs, including 490 in New Hampshire. By 2008, another 1,500 new jobs were forecast for New Hampshire. New jobs, although not high-tech jobs.
"Almost every sector was better off, except IT," said Delay.
Delay said the dollars saved by offshoring activities that can be done cheaper elsewhere translates into goods coming back at a cheaper price and "those saved dollars can be spent someplace else."
In some cases, that might mean more jobs here.
"By producing things cheaper, orders increase as those savings are passed on to customers," said McKim. "When orders increase, companies need more staff locally to service those orders and that can't be done overseas."
But those support jobs will not command the six-figure salaries some programmers received during the heady days of the tech boom. In fact, many IT and manufacturing skill sets are now being considered a commodity and are being sent out at an increasing rate, according to studies conducted by Forrester Research and the American Engineering Association, among others.
The research also shows that jobs higher up the food chain, such as stateside team leaders and project managers, will increase.
Editor's Note: Several New Hampshire companies were contacted and invited to speak about their offshoring experience and why they made the decision to outsource, but none wished to do so.