Otten says Balsams work could begin this summer
Developer tells Coos County Commissioners he's "fairly encouraged"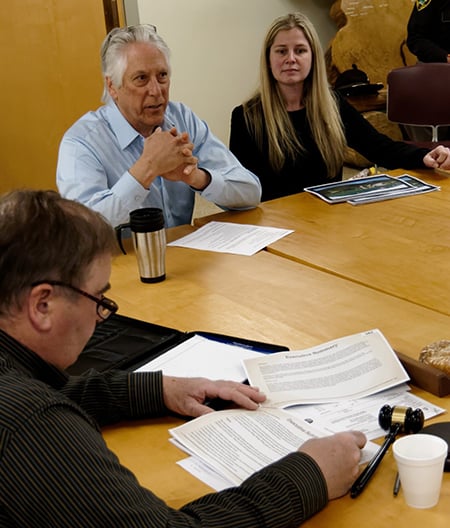 Developer Les Otten says he has spent about $7.1 million on his effort to redevelop The Balsams resort, the project is moving ahead and some construction could occur this summer.
"I think we're fairly encouraged that we are on a path to success," he told Coos County Commissioners Tom Brady and Paul Grenier during the commission's regularly scheduled monthly meeting on April 19.
It has been three years since Otten announced plans to tackle the project, seen by state and local officials as a terrific opportunity to boost the economy of the North Country. But Otten said he doesn't think anyone could have done it more quickly because it is a complicated project "but complicated does not mean impossible."
The project has many – but not all – of the state and federal permits needed to move ahead and there's strong interest in condominiums, he said.
Buyers have put down 5 percent deposits on "over $20 million" in condominiums and another $6 million to $7 million "are in the pipeline," he said.
Those are refundable deposits, however, and Otten does not yet have permission from the NH Attorney General to sell units.
Otten said "the marketplace is abuzz" over The Balsams and he's been contacted by about 600 people looking for jobs, had about 200 inquiries about weddings and "hundreds of requests for conferences."
Otten told InDepthNH.org that about half of the $7.1 million spent so far is his money. The remainder is from Northern Pass' economic development fund, known as Forward NH.
But he said he is getting closer to a crucial element: finding out whether there will be a state guarantee on a $28 million loan from the Northern Bank & Trust Company of Woburn, Mass. The bank is considering lending Otten about $100 million, including the $28 million.
"There is a lot more that we have to do, but we are beginning to feel comfortable that, without making any public proclamations at this point, there will be a shovel in the ground this summer," he said.
Several times in the last two years Balsams officials have predicted construction was about to begin.