Oracle+Dyn veterans launch early-stage investment firm
York IE seeks to 'democratize' angel investing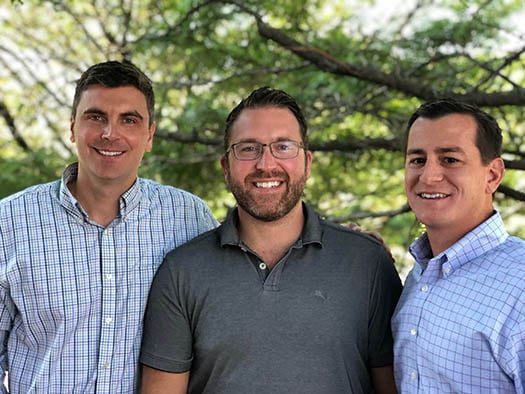 York IE, a new early-stage investment firm, has been launched by three Manchester veterans of Oracle+Dyn.
The firm will be headed by Kyle York, former vice president of product strategy at Oracle, as CEO and managing partner. His fellow co-founders are Adam Coughlin, who worked in corporate communications at Oracle+Dyn, and Joe Raczka, former vice president of strategic development at the company.
Bob Brown, a former president of Fidelity Investments' bond division in New Hampshire, will be an investment partner and adviser to the company.
The three co-founders already have been active investors, with over $12 million in capital deployed in over 60 startups. Among them are 16 that have exited in deals valued at over $2.5 billion, including Fastly, which became a publicly traded company in May 2019, and Datanyze, which was acquired by ZoomInfo in 2018.
York said that, unlike other early-stage investment firms, the new firm will not be raising a traditional fund and will not take a management fee from co-investors. Instead, they are investing through online and offline syndicates in what he said is an effort to "democratize" angel investing.
"We have an offline angel investment syndicate with high-net-worth individuals who are investing alongside us as well," said York. "So we can have a myriad of different engagements with entrepreneurs, and different vehicles we can use to invest our capital, on the foundation of what we've done personally, which honestly is one of the compelling reasons why entrepreneurs want to raise money from us."
The trio also will be working closely with the entrepreneurs they invest in, according to Coughlin. "A lot of times an investment firm will go out and raise a big fund of money, and then they spend all of their time working with the people who gave them the money, updating them and talking to them. We want to spend all of our time with the entrepreneur, sharing business practices and everything we've learned and helping them succeed in the way that works for them."
York said that anybody who is an eligible angel investor, earning $250,00 a year for three years in a row for an individual or couple, or with $1 million in investable assets, can join the syndicate and participate.
"A lot of people don't know what they're investing in, so it's more spray-and-pray mentality," said Raczka. "We're going to bring to the table an extension of a management team, and really raise that likelihood of success."
The firm also will be building a software business, said York, with the goal of creating products "specifically for entrepreneurs to start and scale their businesses. We'll also incubate a bunch of new ideas in emerging markets, emerging industries, areas that we need to know a lot about because they're the next frontier in technology," including
the security space, blockchain and artificial intelligence.
"We're going to invest in the best startups in the world," said Coughlin, adding that "we're going to tremendously biased toward New England companies, New Hampshire companies – anywhere we can hop in our car because part of the value-add of being smart money, not just capital, is to be helpful, and that is a heck of a lot easier when you're face to face."