Open house inaugurates Families in Transition's new housing units
Affordable apartments offered to homeless families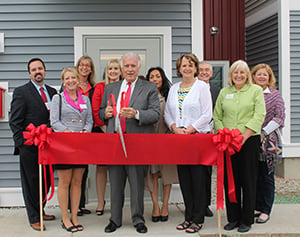 An open house was held Tuesday to celebrate the opening of Families in Transition's new Hayward Street housing development in Manchester.
The new facility consists of four two-bedroom apartments and two one-bedroom apartments for families and their children experiencing homelessness.
"We're excited to be able to provide more affordable housing opportunities to families and individuals experiencing homelessness in Manchester," said Maureen Beauregard, founder and president of FIT. "The lack of affordable housing plays a big factor in the number of people who are homeless. This property brings our total number of housing units to over 200, which still doesn't come close to meeting the demand for the type of housing and services that we provide."
Families in Transition is a nonprofit provider of services for the homeless in Manchester, Concord and Dover. Its nonprofit Housing BeneFITs subsidiary, was started by FIT to improve the supply and quality of affordable housing in New Hampshire.