Only two N.H. schools ranked in top 300 of college ROI report
List raises the question: Is college worth the investment?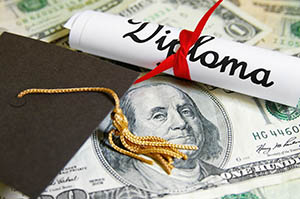 Only two of New Hampshire's 23 four-year colleges are included on a list of the top 300 schools in the nation when it comes to return on investment.
The list, which was compiled in April by PayScale – an online salary, benefits and compensation information company – includes Dartmouth College, which ranks 19th, and Saint Anselm College, which ranks 216th.
Judging by the rankings, higher-tier, usually more expensive, colleges and universities appear to graduate more students who go on to earn a higher average salary. But does that mean the college you attend will determine how much you earn after graduation?
"The truth is, what matters most is not so much where you went to college, but rather what you did with your time in college," said Tom Horgan, president and CEO of the New Hampshire College and University Council. "It matters what kind of person you are, how persistent you are, how hard you work, how creative you are, and how you present yourself."
Considering that soaring tuition rates are driving many students to colleges with lower price tags, that's good news, particularly in New Hampshire, where students carry the highest debt load in the country – an average of $34,000 – said Horgan.
One cause of the high student debt, he said, is that "New Hampshire is now the only state in the nation to offer no state-funded financial aid/scholarships to needy students … unquestionably the lack of financial aid contributes to the debt level students bear."
Compounding
So considering the cost and ROI, is a bachelor's degree necessary to succeed?
According The Brookings Center on Children and Families, a person working in a science-oriented field with only a high school diploma could expect to earn more over a lifetime than someone with a bachelor's degree in the arts or education.
However, said Horgan, it's important to remember that "a college education, without a doubt, will better position you to get that next career position and help you navigate the fast-paced reality of today's employment marketplace. Additionally, countless studies show that college graduates are healthier, have higher earnings, get out of unemployment quicker, and are more active participants in their communities than those who do not hold postsecondary degrees."