On the road to sustainability
AutoBeGreen sells environmentally-friendly products in a variety of markets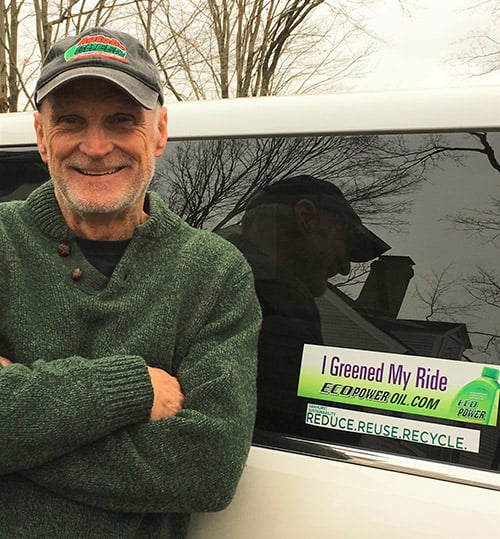 As someone who spent 35 years as a manufacturer's representative in the automotive industry, Glenn Johnson would seem an unlikely candidate to start a distribution business focused on green automotive products.
"I know people think it must be an oxymoron — green products and the auto industry," said Johnson, who founded Exeter-based AutoBeGreen in 2011. "But even as kid growing up in a large family in Wayland, Mass., in the 1960s, we were environmentally aware and recycling. I grew up thinking everybody can do a little bit better to help the environment, and promoting greener transportation is good for everyone."
AutoBeGreen has made it easier for businesses and organizations (universities, municipalities, schools) to do a little bit better environmentally. Before he started the company, Johnson conducted serious research to find out what's out there. He wanted products made in the USA that would prove practical, high-quality, made and packaged green, and biodegradable or green-disposable.
"It wasn't easy to find products that meet those standards, but we found a few — enough to get started," Johnson said. "It was slow going at the beginning for internet-only sales, so we searched for other outlets."
Johnson has focused on biodegradable and re-refined engine and motor oils and found diverse markets, from landscape and tree-cutting companies in need of lubricants for equipment like chain saws and organizations with fleets of vehicles.
"We know that prep schools, colleges and universities are abundant in New England and the Northeast. We turned our focus in this direction and soon learned that these institutions have a sustainability emphasis, which fits perfectly with our products," he said. "We also expanded into small engine products, which are a perfect fit for the market. In most cases, the receptivity to our green products has been very enthusiastic. On the practical side, all our products meet or exceed manufacturers' specifications, thus eliminating warranty concerns."
AutoBeGreen's diverse and growing customer list includes the towns of Exeter and Durham, cities of Keene and Portsmouth; Phillips Exeter Academy, Harvard, Yale and Tufts universities; Appalachian Mountain Club, the Mt. Washington Auto Road and Massachusetts Audubon Society.
AutoBeGreen's product line includes little-known but important companies in the green automotive products industry: EcoPower, Eco Absorb, Green Filter USA, Eco Touch and Ultra Lube.
Education is a vital part of Johnson's job and he's happy to explain the benefits of the products he distributes. For example, EcoPower re-refined motor oil recycles and cleans old motor oil.
"Compared to conventional motor oil, re-refined oil takes up to 80 percent less energy to produce," he said. "This process transforms motor oil into a renewable resource and helps keep oil where it belongs: in vehicles and out of the environment."
Johnson said the combination of business growth and the reliability of the products he distributes proves he has found the niche he sought.
"Our customers know we don't try to be green. They know we are green in everything we do," Johnson said.
NH Business Review's Sustainable Entrepreneurship series is run in partnership with the Green Alliance. To learn more about the alliance, visit greenalliance.biz.