On the New Hampshire Legislature's agenda this week
Senate finance panel to hold hearings on budget proposals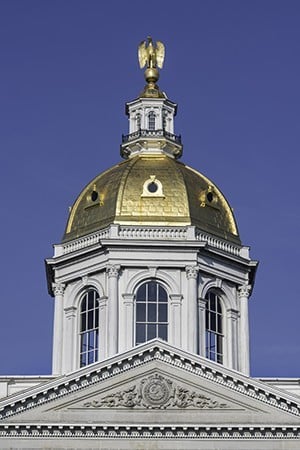 Tuesday, May 14
The House Executive Departments and Administration Committee will hold hearings:
At 10 a.m. on Senate Bill 80, which would require the board of mental health practice to adopt rules for the timely action on license applications by qualified provider applicants.
At 10:30 a.m. on House Bill 120, which would require licensure and inspections of establishments for tattooing, body piercing or branding, massage therapists and massage establishments.
At 11 a.m. on SB 163, which would require the department of environmental services to act upon a permit application no later than 180 days after the application is deemed complete
At 11:30 a.m. on SB 232, which would adopt of the psychology interjurisdictional compact, making it easier for out of state providers to practice here.
Beginning at 10 a.m. the House Municipal and County Government committee plans to vote on:
SB 103, which would allow municipalities to engage in multi-town bonding projects
SB 286, which would enable energy efficiency and clean energy districts to bond for across municipal and county lines on projects.
At 10 a.m. the House Transportation Committee plans to vote on SB 218, which would authorize the state commissioner of transportation to regulate drones.
At 10 a.m. the House Ways and Means Committee plans to vote on SB 74, which would increase the register of deeds fees from $25 to $35 to increase used to support the Land and Community Heritage Investment Program (LCHIP).
At 1 p.m. the Senate Commerce Committee will hold a hearing on SB 270, which would provide $500,000 worth of annual credits against the business profits tax for businesses donating to career and technical education centers.
At 2:15 p.m. the Senate Finance Committee could vote on part or all of HB 1, the $12.9 billion budget with a $116.7 million rainy day fund and HB 2, the trailer bill.
Among the items included (in the House version:
A rollback of business tax cuts to last year's levels and elimination of future business tax cuts
Extension of the interest and dividends tax to cover capital gains, with increases in the deductions.
Establishment of sports betting via 10 retailers (if approved by the municipality) and online, run by the state Lottery Commission.
Establishment of a mandated paid family and medical insurance program financed though a half percent payroll deduction.
Separating keno from kindergarten funding. Keno money would go into the educational trust fund, and kindergarten would be fully funded from that. There also is an increase in school building aid.
Full funding of the Division of Travel and Tourism budget.
Defining, regulating and taxing the sale of e-cigarettes.
Establishment of a community development fund to provide flexible loan capital for community development initiatives and for one-time capital infrastructure revitalization and strategic investments.
Transfer of the job training program for economic growth from the Department of Business and Economic Affairs to the Department of Employment Security.
An appropriation to the NH Housing Finance Authority for affordable housing.
Extension of the Coos County job creation tax credit until 2027.
An appropriation to the Department of Health and Human Services for rate increases and construction of designated receiving facility beds.
Requiring the Medicaid managed care program to provide dental benefits to covered persons beginning in 2021.
Wednesday, May 15
At 10 a.m. the House Science, Technology and Energy Committee will hold a hearing SB 206, which would exclude the costs of lobbying and political activity from the rates or charges of public utilities
Then it plans to vote on SB206, as well as SB 124, which would increase renewable portfolio standards each year after 2025 (when it is to reach 25 percent) so that it will end up at 60 percent by 2040.
It also is scheduled to vote on SB 166, which would require competitive electricity suppliers to credit electricity generation from net energy metering at the same rate as retail electricity bought from the competitive electricity supplier; SB 168, which would increase the solar renewable portfolio standard from .07 to 1.9 percent in 2020 to 5.4 percent in 2025.
Also at 10 a.m., The House Public Works and Highways Committee plans to vote on SB 214, which would permit the commissioner of transportation to acquire private or public property to mitigate historical, not just environmental, effects of transportation projects.
The full Senate meets beginning at 10 a.m. First it plans to vote on the following all at once, unless removed to the Regular Calendar.
HB 272, which would require written notices to temporary workers about their rights
HB 536, whichwould include biometric information under the Consumer Protection Act, so the state could sue companies that give out things like consumers DNA without permission act. organizations.
HB 703-FN, which would require prescription drug manufacturers to provide certain notice to the office of the attorney general if they are introducing new high-cost prescription drugs
HB 568, which would require the energy strategy of the state to include consideration of the effects of climate change.
HB 715, which would initially set a goal to reduce peak demand via energy storage by 2 percent, charge the Public Utilities Commission to look into reducing it by as much as 15 percent, adopting rules to implement it by tariffs or other mechanisms, as long as it results in a net benefit to ratepayers.
HB 520, which would require that new public accommodations install and maintain at least one diaper changing station that is accessible to all genders
HB 562, which would updates the definition of the state building code from 2009 to 2015, including some but not all of the energy code.
HB 710, would requires the State Building Code Review Board to maintain a publicly accessible list of applicable building codes and amendments, and provides for an appeal to the State Building Code 5-0.
HB 508, which would allow for direct primary care, where medical providers offer care on retainer, via a regular payment plan, without going through insurance companies
On the Senate's Regular Calendar are:
Thursday, May 16
The Senate Executive Departments and Administration Committee will hold hearings:
At 9 a.m. on HB 113, which would allow experience as a master licensed alcohol and drug counselor to qualify as experience for licensure as a clinical social worker, clinical mental health counselor, or marriage and family therapist.
At 10 a.m. on HB 271, which would establish a limit for of one apprentice per journeyman electrician in the first year of licensure.
Also at 10 a.m., the House Election Law Committee plans to vote on SB 156, which would require that a political contribution by a limited liability company be allocated to members for purposes of determining whether a member has exceeded the contribution limits
The House Municipal and County Government Committee plans to vote at 10 a.m. on SB 204, which would include energy storage among the distribution costs ratepayers pay on their electric bill.
At 1 p.m. the Senate Finance Committee plans to hold a hearing on the HB 25, the capital budget, which would appropriate approximately $124 million in general fund bonding. Among the items included are:
$6.5 million for the Community College System to do critical maintenance, safety and master plans at all 12 of its campuses around New Hampshire
$10 million for the University System for renovations at UNH's Spaulding Hall, the biological sciences building, in Durham.
$32 million is promised to the University System in the next two capital budgets for renovations at Plymouth State University's Hyde Hall and Keene State College's Elliot Student Center.
$16 million for Rochester's CTE Center
$78 million, mostly federal funds, for municipal airports