Official promotes the value of trade with Hong Kong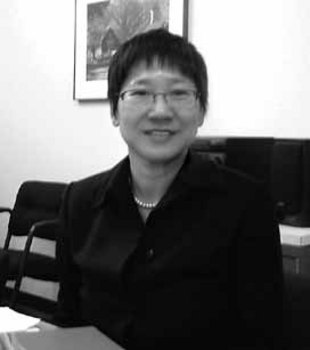 Manchester, N.H., and Hong Kong remain half a world apart geographically, but the two cities are remarkably similar in their economic development, according to Sara P.C. Wu, director of Hong Kong's Economic & Trade Office in New York.
"Hong Kong is now a service economy," said Wu in a recent interview with New Hampshire Business Review. "In that sense, it's similar to Manchester. You used to be a textile center, but you've moved on and diversified and are more of a high-tech center now." Similarly, much of the manufacturing that took place in the former British Crown Colony in the 1960s and '70s has shifted to the Chinese mainland, she said.
"The interesting thing about Hong Kong is that it has moved quite a lot since then," said Wu. "Back then, we were manufacturing a lot of jeans and T-shirts and plastic flowers. Those things have moved to south China. Hong Kong is a service center, a financial and logistical center. Instead of just producing a product, we market it, finance it, things like that."
Wu was on a one-day trip to New Hampshire to promote the value of trade, investment and business partnerships in a city that for nearly two centuries has been a major trading post in Asia. New Hampshire companies, she pointed out, exported $66 million of goods to Hong Kong in 2003, including $26 million in computers and electronics and $12 million in machinery.
"It's not a very big sum, but there's a lot of room for expansion," she said.
The dramatic growth of China as an economic power in recent years makes Hong Kong an increasingly valuable trading partner for the West, Wu said.
"We feel Hong Kong is the gateway to China and other neighboring countries," she said, noting the island's substantial trade with the mainland, as well as Korea, Malaysia, Thailand and other Asian nations. "It's a great place for New Hampshire traders to explore and develop new markets."
It's also a place where foreign companies like to establish regional or branch offices.
"At the moment, there are 3,600 foreign companies in Hong Kong," Wu said, including more than 740 U.S. firms with regional headquarters there, including Fisher Scientific of Hampton. Hong Kong companies, meanwhile, are among the biggest investors and employers on the mainland.
"We now have a million workers in the southern part of China working for Hong Kong companies or companies with Hong Kong interests," she said. "China's creating new opportunities in financial services, marketing and design," said Wu.
The new Closer Economic Partnership Arrangement (CEPA) between Hong Kong and the mainland gives Hong Kong businesses greater access to China's markets. Together with the concessions Beijing has made to the World Trade Organization, CEPA eliminates tariffs on roughly 90 percent of Hong Kong goods.
"Under the free trade agreement, Hong Kong will be able to help (foreign business) partners start up a business in Hong Kong and export to China," Wu said. History and geography have combined to give Hong Kong a unique role in bringing western capital to Chinese markets, she said.
"We speak the same business language," said Wu. "English has been the official language of Hong Kong, and we have been trading with China for centuries, so we also speak the language of China. We can understand Western businesspeople. Western businesses can also help China understand how to do business with the rest of the world."
Hong Kong has retained its Western-style approach to free trade, despite its transition in 1997 from a British colony to a Special Administrative Region of the People's Republic of China. Under the agreement between China and Great Britain, Hong Kong has control of its domestic, economic and trade policies for at least 50 years, while Beijing exercises sovereignty over foreign affairs and defense.
"It's one country, two systems," Wu said.
With a land mass roughly equal to New York City's and a population of 6.8 million, Hong Kong depends heavily on international trade and the deep-water harbors that are its lone natural resource. It has the world's busiest container port, handling more than 20 million TEUs (twenty-foot equivalent units) a year, Wu said. Another terminal with six additional berths is due for completion next year.
The low taxes and the lack of tariffs on foreign goods flowing into and out of Hong Kong have not prevented public investment in infrastructure improvements. The equivalent of $31.5 billion U.S dollars has been committed to a five-year plan for expanding the railroad network, along with roads, bridges, schools and other public improvements.
Tourism continues to be a driving force in the Hong Kong economy, contributing to the 27 million passenger trips last year at Hong Kong International Airport. The airport also handles 2.6 million tons of cargo a year, Wu said.
A career civil servant, Wu tells the Hong Kong story across more than half of the United States, from Minnesota to Louisiana and over to the East Coast. She has been in her current job less than two years and admits she has not yet visited all of the 31 states in her region.
"I hope to get to the eight or nine I've missed next year," she said.
Her recent visit was her second to New Hampshire, following her participation last May in a 10-day trade mission to China organized by New Hampshire's International Trade Resource Center. This time it was a one-day whirlwind trip, beginning with a 7:15 a.m. flight out of New York, landing in Manchester at 8:30, where she paid a visit to the mayor and met with the vice president of the Greater Manchester Chamber of Commerce before heading down to Daniel Webster College in Nashua to give a talk to a student group that will be traveling to Hong Kong in January.
"I find it useful, talking to media and students," she said. For the students especially, she hopes to "open a window for them and stimulate their curiosity and interest to build relationships with our part of the world."
Following her talk at the college and an early dinner with the dean, she would return to Manchester for a one-hour flight back to New York. The following week she would spend two days in Virginia.
"There's nothing like face-to face contact," she said. "America is the biggest market for Hong Kong. I believe it is an important job to create an understanding about Hong Kong for future generations and future leaders."