Official explains Medicaid proposal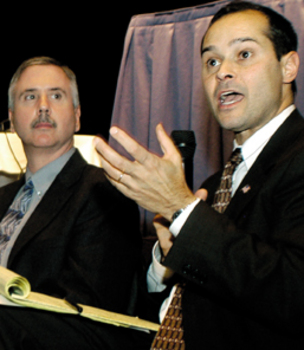 NASHUA – Health Commissioner John Stephen says the state could save about $280 million over five years by decreasing the number of nursing home patients, providing more home care and streamlining other agencies that provide for the developmentally disabled, the mentally ill and the elderly.
These steps are part of Stephen's plan to reform the state's Medicaid system, which he touted during a public forum at Daniel Webster College on Thursday.
"This planning document is a starting point, a series of recommendations, not all the details," Stephen told an audience of about 50 who met at the college for the four-hour forum.
But Stephen has already been cautioned against moving too quickly with his plan. An independent report warns New Hampshire could lose millions of dollars in federal funding if the plan goes through, while clients and providers worry it could jeopardize thousands of the state's neediest residents.
In testimony after testimony Thursday, families served by the Region 6 Area Agency based in Nashua expressed concerns about losing critical services, such as home assistance and family respite, delivered from a local network based on longstanding relationships between clients and providers.
"Relationships make a difference. My son is not a number on a computer," said Merrimack resident Sandy Glover, whose 14-year-old son has autism and receives services from the Area Agency. "It would tear me apart if I saw everything we've worked for fall apart."
Similar forums were held in Concord and Berlin earlier in the week to discuss the commissioner's proposal to save money and increase efficiencies by overhauling the system and organizing it under one administration. Currently, Medicaid programs, which serve about 98,000 people in the state, are administered under the direction of several distinct government agencies.
Stephen's proposal calls for a "single point of entry" that would coordinate care for all Medicaid recipients by merging the divisions of Elderly Adult Services, Behavioral Health, and Developmental Services.
The commissioner said he wants to cut expenses and improve the quality of services by creating a consumer-oriented system that would give Medicaid patients more choices about how to spend available funds.
Reforming the state Medicaid program, however, depends first on a waiver the state must negotiate with the federal government. Any changes in the system require legislative approval.
Last fall, a report commissioned by the statewide, nonprofit Endowment for Health warned that New Hampshire could lose between $50 million and $190 million or more in Medicaid funding over five years if the state negotiates the waiver. The waiver would put a cap on the federal share of the Medicaid program, the report noted.
But on Thursday, officials dismissed the waiver as irrelevant. Should the state run out of Medicaid funds under a reformed system, it could appeal to the federal government for additional monies, said state Medicaid director Steve Norton.
Attendees, however, urged state officials to proceed slowly, study carefully the delivery systems already working effectively, and to consider testing reform on a small scale rather than targeting a wholesale overhaul of the state Medicaid system.
Jack Harrington, board president of the Area Agency, said his agency has received both state and national commendations for its programs and would willingly assist the state in its efforts to modernize the state Medicaid system. But Harrington also cautioned officials against changing the entire system in one fell swoop, including programs that might serve as models.
"Successful change is evolutionary, not revolutionary," said Harrington. "The state proposal is high-risk and puts clients at risk."
Likewise, Bob Daniels, a business analyst who serves on the Area Agency board, warned against dismantling successful programs.
"The state really has a treasure in the Area Agency system . . . These guys really know how to run a business," said Daniels.
Zane Knoy, a retired Springfield College human services professor, asked officials why they haven't studied existing research, including county assessments examining long-term care.
"We had a nursing home relocation project with federal money. Did we learn from that?" said Knoy.
Knoy said Medicaid spending for the disabled, mentally ill and elderly, should be considered in larger economic and social contexts. Making reference to an article he read recently in the Utne Reader, the retired professor said if businesses provide adequate health-care insurance, for example, fewer people would need Medicaid services.
"The Utne Reader article said Wal-Mart pays its people so little many are on Medicaid. Our whole economic system is screwed up," he said.
Knoy, 73, also cautioned against including the state's elderly in a health-care delivery system that serves the developmentally disabled and mentally ill.
"My concern is people of my age and older, if connected with mental health and developmentally disabled populations, will not show up at the place where 'those people' go," he said.