Off the Clock: Walking among the spirits of Portsmouth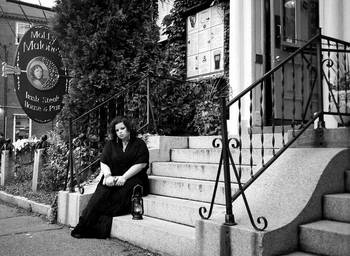 Whenever I have the opportunity to learn something new and have fun doing it I'm happy. Add to it good food and great spirits … well, it just doesn't get any better.
With nearly 400 years of history and a beer-brewing legacy that dates back to Colonial times, Portsmouth provides the perfect backdrop to embrace all of the above, and Roxie Zwicker, founder of New England Curiosities Walking Tours, is just the guide to bring it all together.
Her Haunted Pubs of Portsmouth Walk is a perfect example. Featured recently on The Travel Channel, it is one of seven different guided walks offered by Zwicker. The Haunted Pub Walk includes visits to three Port City pubs, where Zwicker shares ghostly histories and haunting legacies of reported sightings and experiences that have left owners, employees and patrons questioning their own grasp on reality.
Regional microbrews, hard cider and great Seacoast appetizers — from Irish pub fare to award-winning chowder — are the perfect anecdotes to chilling night air (cost of food and beverage is not included in the $15 tour fee.).
A walking history lesson
Our sold-out crowd of 25 met the costumed Zwicker for the two-hour tour in front Market Square's North Church and traveled down narrow side streets, stopping periodically to hear stories – ghostly and historic – about pubs past and present.
Did you know a once-famous watering hole – Stoodley's Tavern – stood in today's footprint of the city's Federal Building at the corner of Penhallow and Daniel streets? It was among three houses on the site and is said have been visited by Paul Revere during his ride to Fort William and Mary to warn of the impending British invasion. Stoodley's is now a youth information center at Strawbery Banke according to Zwicker.
Stepping inside Jack Quigley's Irish Pub on State Street, we all enjoyed a selection of local microbrews or Guinness while Zwicker shared the story of a murder that may have taken place in the 1817 building more than a century ago, and the more recent but untimely death of the former owner. Current owners and employees now believe his spirit has yet to let go of the pub and visits the third-floor administrative offices regularly toppling stools and knocking pots and pans from the wall.
"I close up on Monday nights, and as soon as people leave there's a weird feeling in here. I'll just go upstairs and drop my paperwork and run," said bartender Chris Bashaw. "It used to be if something caught my eye in the mirror I'd stop to look again – not anymore. I just get out."
While it's the administrative offices that receive the spirited visits at Jack Quigley's, we learned that the ghosts of Molly Malone's Steakhouse and Pub prefer the downstairs ladies' room and the windows overlooking State Street.
The building that now houses Molly Malone's was once one of 40 brothels in Portsmouth. Women there were said to charge $2 for their services ($1 for the house and $1 for their pocket). Today, people report strange occurrences in the ladies' bathroom and the periodic appearance of two young women clad in early 19th century gowns beckoning passersby from the restaurant's windows.
If an invitation from two 200-year-old prostitutes isn't enough to bring you in to Molly Malone's, a bowl of their acclaimed chowder, a glass of pumpkin ale and live Irish music on Thursday nights should be.
We hear more accounts of suspected hauntings at places like the Rusty Hammer at the corner of State and Pleasant streets while we make our way to our final stop — the Portsmouth Brewery on Market Street, where we heard tales of New York "businessman" Jimmy LaPanza, his associates and the grand old Cadillacs they drove.
A longtime friend of owner Peter Egleston, LaPanza is said to be in his 90s and enjoying retirement in Florida. Portsmouth tales, however, include stories of the occasional sightings of ghostly old Caddies driving past the front of the Market Street brew house and restaurant.