Off The Clock: N.H. by motorcycle: the only way to ride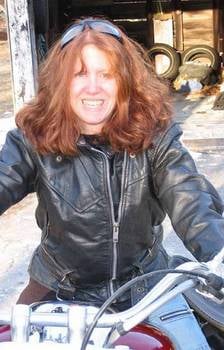 New Hampshire may just be the most motorcycle-crazy state in the nation, according to the Motorcycle Industry Council, which reports 5.7 motorcycles are registered per 100 people in the Granite State – the highest number of bikes per capita in the country.
For longtime motorcycle enthusiast Jug Clough, New Hampshire's love affair with motorcycles is easy to understand.
"It just goes to show you that there is so much great riding in New Hampshire," said Clough of Eagle Rider-New Hampshire in Manchester. "Any great country road you've driven on in your car is just 10 times better on a bike. The curves feel better, the smells are more intense. The sounds, the views – everything is just so much more intense."
With the arrival of warmer weather and Laconia Bike Week scheduled from June 10-18, the time may be right to explore that biker alter ego hidden during the week behind corporate pinstripes or the wheel of the family minivan, or to rekindle a long-lost love for anything loud on two wheels by hitting New Hampshire's back roads on a motorcycle adventure.
The choices are many. Whether you want to spend a day, a week or even longer on the back of a bike and prefer an organized tour or self-guided tour, options to meet your needs are available.
No bike? Don't worry, places like Eagle Rider-New Hampshire, which specializes in Harley-Davidson rentals, make it easy for bike lovers to rent motorcycles for day trips, weekend getaways or weeklong vacations.
"Renting is a great way to see how much you really like it," Clough said. Anyone over the age of 21 with sufficient motorcycle experience can rent from Eagle Rider. Eagle Rider provides the helmets and offers unlimited mileage and roadside assistance.
Clough suggests newcomers or rusty riders brush up on their skills by taking a motorcycle operator safety training course prior to renting.
Plenty to choose from
A quick Internet search of "motorcycle tours" for New Hampshire can introduce a list of guided and custom tour providers eager to guide you across New Hampshire, through New England or into Canada. There are even cross-country tours for enthusiasts with more time on their hands.
Most multi-day tours include a variety of accommodations, from campsites to luxury hotels, and are structured to fill the ambitions of individual riders while taking into account different riding abilities.
"We do tours at three price levels," said Leslie McGourty, owner of Full Blown Motorcycle tours in Greenfield, which offers guided, custom and self-guided tours from a single day of riding through the Granite State to month-long trips across the country. Pricing levels are varied to accommodate riders.
"Some tours require more experience than others but no riding day is ever longer than 200 miles. The most important thing for people to think about is can they handle the riding schedule the tour demands," said McGourty.
Each type of tour has something to offer, according to McGourty. Guided tours allow riders to avoid the research needed to locate scenic routes and appropriate accommodations – it's all done for you.
These tours also have the added benefit of introducing riders to other bike enthusiasts with similar interests and tastes for adventure.
Self-guided tours on the other hand, allow riders to proceed according to their own schedule and offer a chance to enjoy a different level of solitude. Self-guided tours also allow riders to pull together a group of their own choosing, making these trips the perfect opportunity to share some quality time with good friends.
Most motorcycle tour companies like Full Blown will also put together custom tours for individuals who have a certain itinerary or idea in mind but don't have the time to do the research needed to map out routes and find accommodations.
For women only
Women are the fastest-growing segment among motorcycle owners according to the Motorcycle Industry Council. According to a 2003 council survey, the number of female riders has grown by 36 percent since 1998 to 635,000.
"I used to love riding on the back of my father's motorcycle when I was a kid," said 39-year-old Jennifer Champagne, regional sales manager for a medical supply company and owner of a cobalt blue 2003 Harley Davidson Dyna Low Ryder. "It finally dawned on me that I could get my own bike. More and more women are coming to the same realization. It's about time."
Full Blown Tours is tapping into that growth by offering guided tours specifically designed for female riders.
Their "Girls Ride Only" tour is scheduled from Aug. 31 to Sept. 4. It's a five-day trip that takes women along 28 miles of the Kancamagus Highway through the White Mountains, into Meredith and up into North Conway. Riders even have the opportunity to challenge themselves with a ride up the Mount Washington Auto Road.
The trip also includes rides through the Great North Woods and into Maine and the Northeast Kingdom of Vermont.
"I think the girls-only ride is a great way for women to see what they're capable of as a woman on her own. Women seldom travel in groups with just women," said McGourty.