Off The Clock: History and nature come alive at Canterbury Shaker Village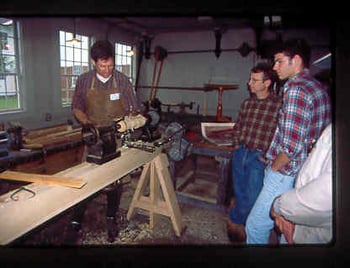 A leisurely drive north from Concord along Route 106 will lead visitors to the beautiful countryside of Canterbury, home of one of New Hampshire's best examples of living history — Canterbury Shaker Village, where life of the 1800s meets today's quest for an understanding of a simpler time.
Perched at the top of a hill on Shaker Road in Canterbury are 694 acres, peppered with 34 buildings (only four of which are reconstructed), fields, gardens, ponds and walking trails, all once part of a self-contained community shared by 300 members of a religious group.
Originally known as the "Shaking Quakers" because of their use of dance during worship, the people of Shaker Village shared a belief in the simple life. Their principles included shared ownership of common goods, equality of the sexes, pacifism and celibacy, among other beliefs.
Today, Canterbury Shaker Village is a living museum visited by 60,000 visitors each year.
The museum is open daily from 10 a.m. until 5 p.m. from mid-May until the end of October. Visitors are especially fond of its tours and demonstrations but the village also includes a gift shop, where a large selection of Shaker items can be purchased and an on-site restaurant. The Shaker Table offers lunch daily, dinner Thursday through Saturday and brunch on Sunday. All meals reflect the Shaker tradition.
Visitors to Canterbury Shaker Village are welcome to help themselves to self-guided tours of the grounds. Eight buildings boasting white flags are open to self-guided exploration. The Bee House, Carriage House Gallery, Ministry Shop and Infirmary are among the buildings open to do-it-yourselfers.
"From the outside, this place is just so beautiful," said Loretta Kinwho, was visiting the village with her sister. They chose to explore on their own before taking a guided tour later in the day, but, she said, "you really can't appreciate what life was like until you go inside some of these buildings and see how people lived. It's really something."
There are two self-guided garden tours. The Sowing Spirit Trail winds through the village's gardens. A printed guide available at the visitor education center explains the connection between the Shakers' appreciation for the land and the creation of their gardens. The self-guided Shaker Stroll concentrates on the history of the Shakers' ornamental plantings.
For guests looking for a more informational and structured visit, any one of three tours may be a good option. The hour-long Shaker Story Tour begins at the visitor center. A guide, well-versed in Shaker life, shares information and tales with visitors while leading them through a half-dozen buildings including the Meeting, Dwelling and School Houses and the Laundry.
The 45-minute Shaker Home Tour concentrates strictly on the Shaker Dwelling House. Visitors learn of its construction and the role it played in Village life.
Yellow beehive flags scattered throughout the village indicate craft demonstrations, each providing the perfect opportunity to see how Shakers went about creating some of their most beloved crafts including the wood boxes and their herbal products.
Despite all of the opportunities to explore Canterbury Shaker Village, the nature trails and natural beauty of the village grounds tends to remain overlooked on occasion, according to Sarah Dunham, family program coordinator at the village.
"People often think of Shaker Village for its history," Dunham said. "They don't think about the nature surrounding it. This is a beautiful piece of property. There's a beautiful pond out past the buildings. And there are so many trails. I just don't think people realize it. We'd love to have more people take advantage of them. "
A new Family Activity Center located in the old Creamery adds a new, hands-on twist to the living history lesson that is Canterbury Shaker Village. It's one place where children are encouraged to touch things. Children and parents alike have been very receptive to the new addition, according to Dunham.
For those who want to delve deeper into the lives of the 1850s Shakers, the village also offers an ongoing schedule of classes, including basketmaking, cooking, printing, painting, rugmaking and woodworking. A complete list can be found on the village Web site, shakers.org.
Canterbury's Village is one of the oldest remaining Shaker villages, and one of the best preserved, boasting the only intact first-generation Meetinghouse and Dwelling House, built in 1792 and 1793, respectively.
Canterbury was home to the last remaining Shakers in New Hampshire — Eldress Bertha Lindsay and Sister Ethel Hudson – until Sister Ethel's death in 1992 (Eldress Bertha died in 1990). Sister Ethel was responsible for turning the Village into the museum it is today.
"We're very unique here," Dunham said. "These buildings are original, families actually lived, worked and played here. We've had continuity. Nothing here is contrived."