Off The Clock: Craftsmen's Fair returns for its 73rd edition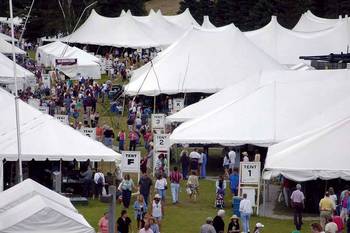 Once each year the League of New Hampshire Craftsmen, as host of the oldest crafts fair in the country, gives New Hampshire residents and visitors alike the chance to shop, learn, relax and bask in the fresh summer air of the Dartmouth-Lake Sunapee Region.
During the nine-day event, held this year from Saturday, Aug. 5 through Sunday, Aug. 13, the base of Mt. Sunapee becomes the backdrop for the annual Craftsmen's Fair, a celebration of New Hampshire's handcrafted heritage.
Giant white tents envelop one booth after another – more than 200 in all — each booth a display of unique handcrafted items. More than 350 artisans, all juried members of the league, chat freely about their work, offering insight to their creative process.
"You get a better appreciation for what really goes into creating these beautiful pieces of artwork," said Carol Fusaro, spokesperson for the league. "And when they give a demonstration you just can't help but stop and watch."
This year, as in years past, virtually every type of craft medium will be represented at the fair, from jewelry to leatherwork, furniture to blown glass, and ironwork to woodcarvings. What's better, all the items on display are available for purchase.
Glass-blowing, furniture-making, chainsaw-carving and quilting will be among the ongoing demonstrations that fill the days.
Renowned woodworker Jon Brooks and potter Gerry Williams are this year's special guest lecturers. Each will be offering demonstrations.
Collectors and master craftspeople will guide daily tours of the fair. Each 45-minute tour will focus on a particular type of craft and will include commentary on the techniques and artistry that go into creating the fine pieces.
For visitors who love handcrafts but are unsure how practical they are or how well they might fit into their home décor, the "Living With Craft" and "Craftwear" exhibits, held in one of the Mount Sunapee Resort base lodges, will illustrate what beautiful additions handcrafted items are to any décor or ensemble.
If outdoor living is your thing, the "Sculpture Garden" exhibit will highlight outdoor furniture, birdfeeders and landscape sculpture.
Even children have the opportunity to get into the act at the fair, where they will have the opportunity to create sticks-and-stones sculptures or soap carvings. Older kids might want to try their hand at glass-blowing or paper-making.
Homegrown talent takes form in ways other than physical handcrafted items at the annual fair. Daily musical entertainment includes country, bluegrass, Latin, folk, jazz and blues performances by some of the areas best known musicians.
"There is something for everybody at The League of New Hampshire Craftsmen's Fair," Fusaro said. "People who are really interested in fine craft get a great firsthand look at how these beautiful things are created. It's a fun and educational experience for everyone."
A look back at the fair
The annual Craftsmen's Fair began in 1933, a year after the league itself was born. Its first home was the Crawford House in Crawford Notch. Deemed a success after raising nearly $3,000 that first year, league officials decided to make the Craftsmen's Fair an annual event.
The fair has called numerous locations "home" over the years, with stops at the Hancock Town Hall, Plymouth's Holderness School, Dartmouth College and Brewster Academy among the sites locations since its inception.
It wasn't until 1964 when the fair found a permanent home at Mt. Sunapee, where 35,000 visitors come each year to absorb the talent displayed by league members.
Visit the mountain while you're there
While there is more than enough to keep fair visitors busy throughout the day – or week even, the Lake Sunapee Resort itself offers plenty of chances to escape the crowds and explore the mountain.
Ambitious? Pack a picnic and hike to the summit of the 2,743 foot mountain for great views of Lake Sunapee and the Green and White Mountains.
If riding is more your style, hop on board the aerial sky ride for a 10-minute ride to the summit. The ride is just $6 for adults, $5 for seniors and children between six and 12 years old and free to anyone five or under.