Off The Clock: America's Stonehenge — off the beaten path in Salem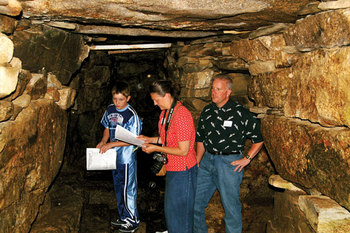 When 11-year-old Logan Ross was charged with finding one New Hampshire tourist attraction for him and his family to visit during their road trip from Greenwood, Ind., to Boston, he selected America's Stonehenge in Salem. He was not disappointed.
"I thought this would be a good place to stop to see what all of this was really for," he said. "I think it's interesting."
Logan and his family are only a few of the 35,000 people who visit America's Stonehenge each year, only to leave without answers to the questions the curious site provokes — but that's half the fun.
Thought to be 4,000 years old (according to carbon dating) and touted as "one of the largest and possibly oldest megalithic sites in North America," America's Stonehenge is home to an astronomical calendar created by an ancient people out of giant slabs of stone.
While scientific theory points to Native American cultures or a migrant European population, no one knows for sure who created the site, thus its slogan, "Explore the Mysteries."
"We don't have the answers to a lot of these questions," said Pat Stone, daughter-in-law of owner Robert Stone, who purchased the 105-acre property in 1957. "We entertain all the ideas and welcome visitors to pursue the answers."
It's not unusual to come across archeological researchers at the site, since research is ongoing according to Stone.
A journey off the beaten path of the state's amusement parks, mountain vistas or seaside drives, America's Stonehenge combines lessons in astronomy, history and natural wonder in a single stop.
The 40-acre area consists of criss-crossing stone walls, man-made chambers and ceremonial meeting places connected through a series of nature trails that meander from the visitor's center through the woods past a turtle pond to the Oracle Chamber – the largest chamber on the site.
Consisting of numerous drains, chambers, passages and slabs of stones, this ceremonial site is home to the "Secret Bed," from where an average-sized person can watch the goings-on throughout the Oracle while remaining hidden from view as well as the "Sacrificial Table," still bearing the ancient carving of a running deer, and the "Speaking Tube," which stretches five feet into the stone underneath the Sacrificial Table and is of special interest to young visitors.
A visit to America's Stonehenge is self-guided, but a detailed map offers guidance and insight to each of the stone creations.
A number of specific locations and structures at the Oracle and throughout the site have been found to mark astronomical alignments — when the rays of the sun or moon connect certain stones or travel through certain passages — including both equinoxes and the winter and summer solstices.
A variety of these significant dates is celebrated each year at America's Stonehenge, including the upcoming Summer Solstice Celebration, scheduled for Thursday, June 21.
America's Stonehenge marks the occasion by remaining open from sunrise to sunset on this day. Visitors are treated to a colorful celebration that brings together the cultural influences of ancient and modern times. The day includes a participatory event complete with drummers, singers and a parade of sorts full of banners and costumed participants.
A potluck supper and Celtic music follow the celebration. Check out the Web site for more information about the June 21 celebration (stonehengeusa.com).