Off The Clock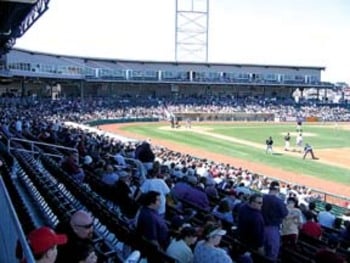 Baseball in the Granite State has become more than just batters, pitchers and balls. An evening at the ballpark now provides contests, giveaways, bands, even gourmet food.
At a recent Nashua Pride game, fans could take in some terrific baseball with the Atlantic League champions as well as some surprisingly good eats. There were the usual hot dogs and pizza, but there are a few differences, too. The chili was made from scratch by the Pride's concessionaire, South Carolina-headquartered Center Plate, with real tomatoes that you could actually see. The French fries were made from fresh potatoes; the skins were still on. And the chicken tenders were all white meat, not pre-formed "poultry-based product," and looked more like breast cutlets than strips.
Inter-inning contests have become a major part of the action at Historic Holman stadium. The Dizzy Bat race had two contestants running in circles around the head of a bat for 10 seconds, then dash away, zig-zagging to a finish line. The winner might be the person who can still stand up. Another game had a young boy catch in a net all three Amazing Rubber Chickens that were flung to him from a giant slingshot.
As a special treat, the Pride wraps up Friday night games throughout the season with a fireworks display that's almost as good as many small-town Independence Day celebrations.
In Concord, the Quarry Dogs hold court. As part of the New England Collegiate Baseball League, these sluggers are all-stars back at their colleges and universities.
Between innings, the Quarry Dogs get the crowd participating in the Main Street Fling game, in which contestants hit a rubber target with home plate as a bull's eye. The Dogs' newest game, Baseball Bingo, is designed to help younger spectators understand the game.
And what's a Quarry Dogs game without a "dog biscuit" from of local eatery Arnie's Place?
It's not the kind of biscuit Fido gets, but maybe the best and thickest ice cream sandwich you'll ever taste.
New Hampshire's other collegiate league team is the Keene Swamp Bats. Like the Quarry Dogs, the Swamp Bats are a non-profit organization, and the games are put on by volunteers.
"It really is a full-time job when you're drawing 2,000 people each game," said Kevin Watterson, president of the Swamp Bats organization.
At Jerry's Hardball Café concession stand, they serve all the usual suspects, but they also offer grilled sausage and grilled chicken, and the ice cream is made locally by Rick's.
One of the Swamp Bats' more original between-innings games is a frozen T-shirt contest in which children have to beat the clock to unfold and put on a frozen T-shirt. Fortunately, the Swamp Bats' season ends in August and not October.
At the new Fisher Cats Ballpark in Manchester, it's no longer a hot dog-and-beer day out with the guys. A Fisher Cats game is a great family affair.
On game day, there was banjo music at the entry gates by musician Doug Rickard, and a Fisher Cats bank was given to the first 1,500 fans. Fungo's Funland behind section 111 provides 19,000 square feet of blow-up climbing toys and an obstacle course. There were even reptile wranglers inviting would-be "crocodile hunters" to pet an albino Burmese python, a small alligator and assorted lizards.
It's pretty apparent that the target audience loves the fun and games.
Said 5-year-old Jameson Clark — visiting from Goffstown with his father, Michael Clark — "This is the funnest day this summer. I got a balloon and got to climb and do the obstacle course and they gave me this bank — it's real fun and I hope the Fisher Cats win."
For further information:
The menu at Fisher Cats stadium reads more like one at a restaurant than at a ballpark concession stand. In addition to the expected offerings, there's also clam chowder, clam rolls, shrimp and fish baskets, and even lobster rolls.
Despite all the goings on, there are still purists, like Pete Mitchell of Manchester who watched the AA Eastern League champion Fisher Cats take on the Portland Sea Dogs.
"The other stuff is nice, I guess. Maybe it will get more people out here to cheer on the Fisher Cats," he said.
And if it gets families together for some good, clean fun at an affordable price, it can't be all bad.
New Hampshire Business Review staff writers Cindy Kibbe, Bob Sanders and Tracie Stone contributed to this article.