October EYE Award Winner: Jessica Garofoli, Garofoli's Fine Food, Wines & Cheeses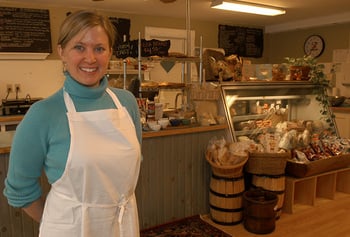 Jessica Garofoli loves numbers, sales and marketing, but she is absolutely passionate about theculture and food of her family's homeland of Palombara Sabina, Italy.
The petite, energetic 25-year-old found a way to marry the two last January when, with the support of her father and mentor, Bob Garofoli, she opened the doors to Garofoli's Fine Food, Wines & Cheeses at 180 Lafayette Rd. in North Hampton. Garofoli's offers a collection of fine cheeses, specialty meats and Italian wines as well as pasta sauces and homemade meals prepared by Garofoli and her staff daily. Garofoli Olive Oil, a signature item at the shop, comes "right from our trees and from the trees of my cousins and our friends" in Italy, said Garofoli.
A midday menu of soups and paninis lures a growing lunchtime crowd, many of whom are already on a first-name basis with the Garofoli crew.
Although new to business ownership, Garofoli is no newbie to the daily happenings of retail operations, thanks in part to
a monthlong visit she took last year to Palombara Sabina in Italy, where she honed her skills working in an authentic Italian market before taking the reins of her own business.
Even before venturing to Italy, Garofoli worked at specialty markets closer to home – including Turgeonelli's, the shop which once stood where her own business is now located. It was during her tenure at Turgeonelli's that Garofoli decided to take the leap into entrepreneurship.
"The timing was right," said Garofoli, who holds an accounting degree from the University of New Hampshire.
For customers hoping for a more intimate exposure to Garofoli's culture, the enterprising business owner has scheduled the first of what she hopes will become a regular part of her business – a guided tour to Palombara Sabina, which will include cooking classes and Italian dinners in her family's homes, a chance to participate in the picking and pressing of olive oil at local olive farms and a guided visit to Rome.
"I want people to have the chance to really immerse themselves in the culture," said Garofoli. "Just like I did."
What inspired you to start your business?
I've always had something for food, for design and entertaining. I've always had this great connection to my Italian heritage, and that has really played into having a place like this where I can bring all of this together.
What about this endeavor are you most proud of?
Coming into an established business can be difficult. There was already a strong following here, and a change in ownership can be disappointing for existing customers. But I think we've been able to gain their respect. They seem very pleased with the way things are going, they're even telling people – even the former owners – that we're doing a wonderful job. There's so much buzz, people are really responding well and we're getting so much business from Portsmouth that really says something.
Where do you see your business 10 years from now?
There's just way too much going on in my life to look past next week! I tend to live for the moment, what's happening right now and right now I'm thinking about our upcoming trip to Italy and the holiday season. I don't know where we'll be in 10 years, but I know a couple years ago I didn't expect I'd be here now.
How do you kick back?
I don't have a lot of free time. I'm not a sitter, so I try to stay active. I like to spend time with my family; I like to go to the lake. I like sporting events – my boyfriend coaches hockey so I'm looking forward to hockey season. And I love experimenting with cooking and trying new recipes.
Who are you role models or sources of inspiration?
My dad – 100 percent. This wouldn't have happened without him. My dad is a small business owner, so he has really been a great mentor. And through him I've had such a wonderful connection with all our cousins in Italy – I've studied there, I've lived there. I feel so lucky to have been exposed to them.
What is it about New Hampshire to decide to start your business here?
This is my home. This is where my family is and that's so important. I know more about the market here than anywhere else. And here everything was in place – the concept, the location, the price – everything was right.
What advice would you give other entrepreneurs like yourself?
Prepare as much as possible. Know as much as you can about your business. For me, I'm so lucky to have had a mentor in my dad. I do think that sometimes being young and naive can be a good thing. Being a little naive let me jump right in, live my dream and see what happens. Sometime I think knowing too much can scare people right out of chasing their dream.
The Emerging Young Entrepreneur awards program is presented by New Hampshire Business Review in partnership with Centrix Bank. The monthly award honors New Hampshire's young business owners for their creativity, determination and business success. Visit Centrix Bank online at www.centrixbank.com.