Numbers show what makes N.H.'s real estate market different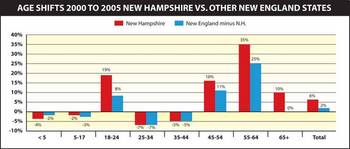 New Hampshire is a small state, but it has a number of special characteristics that make its housing market look and behave differently from other states. Most importantly it ranks in the top 10 among the 50 states in several social indicators that make for a more robust housing market.
Most such indicators come from the Census Bureau's recently published results from it's 2005 American Community Survey. (It can be accessed at census.gov/acs, but it should be used with caution because data for smaller counties often have extremely high margins of error.) Here's what the bureau reported about our state's 1.3 million residents and half a million households.
For starters, New Hampshire ranks fifth in terms of median family income, at $67,400, compared to the $55,800 U.S. median. Part of the reason for such high income is that we are third (behind Idaho and Utah ) in terms of percent of households that are married couples (54 percent) and seventh in the percent of those couples that both work (59 percent).
Another important reason is that nearly a third (32 percent) of all adults ages 25 or older in New Hampshire are college graduates (ninth rank), compared to 27 percent nationwide. Workers in our state travel an average of 25 minutes each way to work (12th highest) and almost all of them (82 percent, ninth highest) drive alone. (Perhaps we should find out how many are listening to NHPR during that drive time.)
This suggests that a large percentage of homebuyers will likely want at least a two-car garage. But some buyers may only want one place for a car, because 25 percent of New Hampshire households are people who live alone. By comparison, just 24 percent are married couples with children and 8 percent are single parents.
Three in every 10 (30 percent) households in New Hampshire are married couples with no children, compared to 28 percent nationwide. Only 7 percent of households in our state and 6 percent nationally are unrelated people who live together.
Forty states have more housing units (either occupied or vacant) than New Hampshire's 583,000, according to the latest Census Bureau estimates. Unfortunately, our housing unit growth, which was 6.6 percent from 2000 to 2005, lagged behind the national average growth rate of 7.4 percent.
More than 10 percent of New Hampshire's dwelling units are for "seasonal, recreational or occasional use," compared to 3 percent nationally. We rank third in that figure, behind Maine and Vermont. The rising propensity of older homeowners to purchase two or more homes means that segment of buyers, mostly from other states, is likely to become more important in future years. Implication: Realtor Web sites are vital.
The chart shows how the age structure of New Hampshire has changed over the past five years compared to the other five New England states. It is particularly noteworthy that while our state tracks closely with other New England states in the rate of decline among people ages 25 to 44, our rate of growth is much faster among young adults ages 18 to 24 and among people ages 65 or older.
This means that our state is a more attractive place to retire than other states in the region and that people now living in New Hampshire who are approaching retirement (a very fast-growing segment) are not as likely to move to another state.
But the high growth among the youngest adults creates an imperative: As they age into the 25-to-34-year-old age group, we must create enough housing that they can afford or they will likely leave New Hampshire and probably the region.
Considering that just in the past five years our state had an estimated net loss of 25,000 people, mostly workers, ages 30 to 39 years old, we need to retain as many workers in their 20s as possible to make up for that loss.
The chart suggests that since New Hampshire has had higher growth in 18 to 24 year olds, if we provide enough housing for them we may have a better chance of retaining more of them than other New England states.
This article by demographer Peter Francese of Exeter originally appeared in the New Hampshire Association of Realtors' e-newsletter, Real Estate Market Trends.