Numbers reveal a chilly year for home, condo sales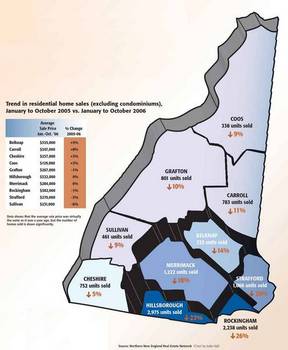 November may have seemed warmer than usual in New Hampshire, but there's a deep chill in real estate. Three of my neighbors perfectly illustrate how the sales statistics, unpleasant as they are, do not completely reflect just how hard this market shift has been on Realtors.
Each of these three neighbors has put his or her house up for sale in the past year. There have been several open houses and dozens of showings, at no small cost to the Realtors involved. But none has sold, and now all three properties have been taken off the market. In at least one case, the reason was an unrealistic price expectation.
None of these "No Sale" examples will show up in the statewide data, nor are the hundreds of unpaid hours the Realtors spent recorded anywhere. Such are the limitations of real estate information systems we have.
What the data from the Northern New England Real Estate Network (NNEREN) and the New Hampshire Housing Finance Authority (NHHFA) does show is that when homes have sold, the average price was virtually the same as it was a year ago. But the number of homes sold is down significantly.
During the first 10 months of 2006, according to NNEREN, the average residential sale price, not including condominiums, was $309,000, which was only $1,000 less than during the same period last year. But the number of units sold dropped 19 percent, from just over 14,000 to under 11,400, and sales volume fell by over $800 million.
Condominium sales did not fare much better. The average sale price during the first 10 months of 2006 was $207,000, up 3 percent from the $201,000 during the same period last year. But the number of units sold fell 18 percent, from 5,000 to about 4,200, and sales volume dropped by about $160 million.
When 2006 is finally over, residential sales volume in New Hampshire will be at least a billion dollars below last year. That's damn cold.
The question is: What about next year? Next year's sales may be better, but it will depend to some extent on an increase of jobs in our region (which have had virtually no growth in the past six months) and a continuing desire of baby boomers to own two or more homes.
We may be in a situation in which the lack of affordable workforce housing is having a significant impact on the ability of employers to find workers. This suggests that perhaps the prevalence of growth moratoriums in New Hampshire towns is having a negative effect on our workforce growth.
Peter Francese is demographic adviser to the New Hampshire Association of Realtors. This article originally appeared in the association's Real Estate Market Trends newsletter.