Numbers don't add up to meet direct care needs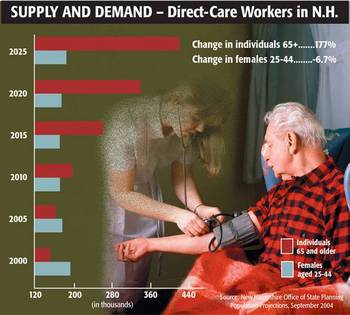 In many ways, early mornings at Sheila Zakre's Concord home have always resembled those of any other family — breakfasts made, children dressed and sent off to school, and Zakre and her husband prepared to head out for their own workday.
But things changed in January when Zakre's 87-year-old mother Patricia moved in after breaking her hip in a fall at her New Jersey home.
Today Zakre's hectic morning routine often includes helping her mother out of bed and caring for her until the arrival of a home health aide, who will sit with and care for Patricia for the next eight hours.
Zakre and her family are among the 131,000 family caregivers in New Hampshire and one of a growing number dependent on the availability of qualified in-home care providers.
"We couldn't do this without home care services," Zakre said. "My mother needs a great deal of assistance. She needs a lot of attention, and while we love having her, if you don't have the support you, as a child, just can't do it."
More than 22,000 people over the age of 85 now live in New Hampshire, according to the U.S. Census Bureau. That number is expected to at least double, reaching nearly 45,000 by 2030.
New Hampshire's Department of Employment Security predicts employment positions for in-home care providers will increase by 48 percent over the next two decades. But the pool from which the majority of the industry workforce is pulled – women between the ages of 25 and 44 – is shrinking, and current providers are beginning to age out.
Add to this the challenge of recruiting and retaining workers in an industry associated with low wages, lack of benefits, ineffective supervision, lack of a career ladder and sometimes poor and isolated working conditions and a crisis could be looming, said Terry Lochhead, coordinator of the Direct Care Workforce Initiative at the New Hampshire Community Loan Fund. It's her job, she said to try to put "best practices for recruiting and retaining direct care workers on the radar screen in New Hampshire."
"We really don't know for sure what the effect is going to be, but we need to be prepared for it," said Lochhead, pointing out that the ramifications of this workforce shortage will affect far more than the caregiving families.
A recent study conducted by the National Alliance for Caregiving and AARP found 59 percent of caregivers work outside the home. Nearly 62 percent of these workers report having to alter their work schedule to accommodate outside caregiving duties. The study also found that over a course of a lifetime these caregiving duties can actually cost workers nearly $700,000 in lost wages, Social Security income and pension benefits.
Families are not the only ones that pay. The 2006 "MetLife Caregiving Cost Study: Productivity Losses to U.S. Businesses," indicates employee caregiving is costing American businesses up to $34 billion a year in lost productivity.
Taken together, it becomes clear that local economies will suffer as well from a shortage of in-home care providers.
But New Hampshire can address the pending shortage before it becomes a crisis, said Lochhead.
"There are possibilities if we begin to address the issue now," she said.
One is flexibility. Zakre, for example, is an attorney who operates her own office, which gives her the flexibility to adjust her schedule to meet the caregiving needs of her mother.
Flexibility also can be key in retaining employees faced with caring for elderly loved ones at New Hampshire's larger companies.
At Merrimack-based PC Connection – an employer of almost 1,000 people – "we take situations on a case-by-case basis," said Roger Brock, vice president of employee relations and staffing. "We've had times where an employee might have to adjust their work schedule – come in late or leave early – we've allowed that. We've also allowed workers to telecommute when it's feasible. We try to do what we can."
Reversing the trend
Now is the time, before a crisis unfolds, when Lochhead believes action can be taken in New Hampshire to ensure a stable care-giving workforce will be in place to address the growing demand posed by the state's changing demographics.
"We need to alter our thinking of who these providers are and what they have to do," said Lochhead, whose organization has joined forces with the Northern New England LEADS Institute, a project of the nonprofit Paraprofessional Healthcare Institute dedicated to improving and developing recruitment, training and supervisory practice and effective public policies for the direct care industry.
Identifying new sources of direct care providers, creating career ladders, adjusting compensation, improving supervisory support and working conditions will all contribute to strengthening the workforce needed to meet future demands, Lochhead said.
Potential pools of direct care workers may include people employed in declining occupations, high school graduates and high school dropouts or people over 65.
Average salaries and poor benefits need to be adjusted to meet the changing responsibilities of care providers. Current wages for home care aides start at $7.40 an hour. Home health aides – those able to attend to more health-related issues – start at $9.04. In comparison, short order cooks and housekeepers in New Hampshire can expect to start at $7.40 and $7.85, respectively, according to the state Department of Employment Security.
For many in-home care providers, the work is isolating. A lack of supervisory support and guidance adds to the high turnover rate.
Together, Lochhead, LEADS and three other New Hampshire partner organizations are working to train direct care supervisors in coaching methods – giving them the problem-solving skills and tools they need to communicate effectively and support their direct care teams in the field.
Project trainers have already worked with managers on coaching techniques at Ridgewood Center, a Genesis HealthCare facility in Bedford, Edgewood Centre in Portsmouth and Quality Care Partners in Manchester, with hopes of promoting a more friendly and supportive environment among direct care workers.
Nearly two dozen other eldercare operations throughout New Hampshire are introducing this new supervisory approach under the guidance of Genesis HealthCare.
For Lochhead, attention paid to making these changes now will add to the quality of life for New Hampshire families and the economic health of the state's businesses in the long run.
"The changes that need to be made are not just for the consumer," Lochhead said. "They're for the family caregiver, the public and the economic community."