Number of hunters in N.H. is on the decline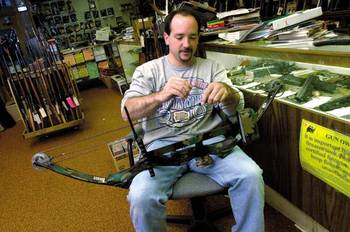 ens of thousands of people will don blaze-orange vests on Wednesday and take to New Hampshire's woods for the start of deer-hunting season, a month-long event that will pump millions of dollars into the economy, fill the countryside with hunters from Coos County to Mount Monadnock and continue a tradition older than the state.
But an awful lot of folks won't even notice.
"Twenty years ago, even if you didn't hunt, you still knew hunting went on. You knew when the season started," said Neil Head of Temple, who runs an archery-hunting store on Route 101.
"Now people go, 'It's hunting season? Oh, I guess so.' "
Head doesn't need charts and surveys to tell him that hunting isn't what it used to be: He is expanding his store so he can carry more non-hunting items like snowshoes.
Peter Lester of Dover, who oversees hunter education for the state Fish and Game Department, has all the charts and surveys you could ask for – but he doesn't need them to see a decline, either.
"When I was growing up, if you were a male student in school on opening day, you'd be lonely," said Lester. "It's not like that now."
The starkest indication of hunting's decline comes in the number of annual licenses bought in the state. This figure has been falling slowly for decades, from 83,500 in 1960 to roughly 60,000 in 2003 – a decline of almost one-third.
New Hampshire is not alone.
"The general trend I've heard is about a 1 percent decline nationwide every year for the past 15 years," said Eric Nuse, executive vice president for the International Hunters Education Association, an Ohio-based advocacy group seeking to reverse the trend.
Up in Canada, he added, things are even worse.
Not just deer
The annual whitetail deer season actually started in mid-September, when bow-hunting began, followed by hunting with old-fashioned muzzle-loaders in late October. Firearm season, which starts Wednesday, is by far the most popular form of hunting in New Hampshire. As long as the weather cooperates, officials expect that by the time all the seasons are over on Dec. 5, roughly 10,000 deer will be killed, about one-eighth of the state's herd.
That's a lot of deer, but it still reflects a big fall in participation. And it's not just deer hunting that has been hit.
Despite some high-profile
successes, such as New Hampshire's moose lottery, hunting numbers are shrinking in virtually every category, from birds to big game.
"Waterfowl is even worse off. . . . From a high in the early 1980s, I believe there has been almost a 50 percent decline nationwide in duck hunters," said Nuse.
Interviewed last week after a successful duck hunt along the Souhegan River in Milford, Matthew Krause of Manchester and his girlfriend, Nashua-born Cheryl Connors, weren't surprised.
"I used to see lots of trucks here," Krause said, gesturing at a North River Road parking spot that is popular with hunters cutting through cornfields owned by the Trombly farm. "This year, it seems like we're the only ones."
For those who despair of hunting's future, however, Krause and Connors also offer hope. They rose before dawn to get cold and wet not to make a statement, but because it's fun.
"Just to get out in the morning, to see the sun rise, that's why," said Krause, who also noted the pleasure of working with Brody, his handsome, chocolate-covered Chesapeake retriever.
Connors took hunter-safety classes and got a license largely to be with Krause – "He tried skiing; I tried hunting" – but says she has found she enjoys duck hunting, with its chance to see river life up close.
"There were four or five women in the class with me, and they all had the same reason: It was the only way they'd see their husbands from September to February," Connors added, half-joking.
Changes in attitudes
There are plenty of reasons why hunting is in decline in New Hampshire:
n Homes are taking over woods and fields, ruining former hunting spots, and gun-shy newcomers are closing once-open land, forcing hunters to drive further before they can even get started.
"People are posting ("no hunting" signs on) more land, that's the biggest change," said Head. "You can't go down the road and go hunting any more."
This is particularly painful in southern New Hampshire, where most good hunting land is privately owned.
n Children, particularly boys, who once couldn't wait to get their first squirrel gun are being lured away by new form of entertainment from paintball to computer games.
"Children by nature are impatient. . . . On the X-box, there's instant gratification, tons of targets, lots of action. Is sitting out in the woods for a week waiting for a deer to walk by going to satisfy a 12-year-old?" said Lester.
The decline of youth participation is the biggest problem sign for hunting, everybody involved in the sport agrees. Children under 16 do not need a license to hunt, although they must accompany a licensed adult, and Lester points to sales figures for that crucial first year as a bad sign.
"License sales for 16-year-olds in New Hampshire (range from) 450 to 800. If only that many are buying their first hunting license, that's not good," said Lester. "That's not enough to replace those who are getting old, who are leaving."
Even at places like the Hudson Fish & Game Club, members say the junior rifle program is a shadow of what it once was, down to just a couple of kids.
n The flood of newcomers drawn to New Hampshire for its small-town feel usually don't consider hunting to be part of the rural lifestyle that drew them here.
"Gun racks are disappearing," said Don Trecartin of Milford, manager of Old Time Army Navy store on the Oval, which features racks of camouflage suits for hunters. "Now you don't see deer loaded on the car – you see kayaks!"
As evidence, Lester notes that the number of adults who graduate from state-sponsored safety courses – required before getting your first hunting license – is tiny. In the year ending June 30, for example, just 30 people who were 30 years old got safety certified.
Lester thinks this demonstrates that "exurbs" – a demographic term for a suburban lifestyle dispersed throughout formerly agricultural land – are no replacement for real rural life.
"Hunting goes hand-in-hand with farming, in my opinion. As the farms go, so goes hunting," said Lester, of the Fish and Game Department. "How many dairy farms do you have left out there? . . . How many kids participate in FFA (Future Farmers of America)? "
n Many hunters blame overzealous gun-control laws, plus the animal-rights movement, for harming interest among the general public.
"When I was in seventh grade, dad came down to Memorial School, did a presentation and brought his rifle, all its pieces. And when my dad was a kid, he used to able to take his shotgun on the bus," said Michael Goyette, owner of Pete's Gun & Tackle in Hudson. "Now they won't let a kid have a picture of a gun in the yearbook!"
Optimism exists
With the fall in hunters has come a fall in associated events.
Fewer restaurants advertise "hunter's breakfast" specials for warming up after a pre-dawn stint in the woods, and the wild-game dinners that once dotted the landscape as fund-raising events are almost gone. Few schools have rifle teams, and newspapers rarely feature that former staple of local journalism, photos of proud folks posing with a trophy deer.
Still, not everybody is discouraged.
"(Business) is pretty stable. One year it'll go up, next year it'll go down, but I'm not complaining," said Goyette, whose family has owned Pete's Gun & Tackle in Hudson for 36 years.
He attributes part of his success to luring hunters over the border from firearm-unfriendly Massachusetts, but mostly to connections built up over years of selling equipment, giving advice and running hunting trips.
"Guys still hang out here. They'd love it if I put a pot-bellied stove and had donuts and coffee every morning," he joked.
The Goyettes are a classic hunting family of the sort that is increasingly rare. Michael's father, Peter Goyette, took him hunting as a boy, and last year Michael took his son, Spencer, hunting in New Durham, where Spencer got his first deer – a 143-pound, six-point buck – at age 9.
Another positive viewpoint comes from Darrell Fisk of Wilton, a meat-cutter who has butchered wild game as a side business for 15 years.
"When I first started, I'd just go mid-October until deer season was over. Now I start in mid-September – some guys go down to places like New Jersey (where the season starts sooner) and continue right to Valentine's Day (for other game)," he said.
"We do everything – last week we did 11 moose," he aid. "The freezer gets pretty full."
Although like most hunters he has woeful stories of houses replacing the fields where he hunted as a kid, Fisk is fairly upbeat.
"It's like everything – it goes in cycles. . . . I know down in Chelmsford (Massachusetts), they passed a law saying no trapping. Then, two or three years later, the beavers found out they could dam up every little brook in town and all of a sudden all of these people who were against trapping were seeing flooded homes, roads. . . . They had to pay big bucks to have (beavers trapped) and they changed their tune," he said.
"I think (hunting) is going to have to stick around, just to keep the deer in check," he said.
Game is plentiful
Controlling whitetail deer, which have learned to thrive in amid human development, is a real concern. The state even allows hunters to take an extra deer as long as they do it in the state's southeast corner, stretching from Nashua to the Seacoast, because the amount of hunting in this built-up area has plummeted.
This, in fact, is one of the ironies of New Hampshire hunting today: While finding places to hunt has never been harder, finding game has never been easier.
Wild turkeys, for example, had been driven out of New Hampshire until wildlife officials began restocking them in 1975; now they're a common sight. Big game has drifted south as woodlands have replaced farm fields.
Trecartin tells of a mother bear and two cubs that he regularly sees patrolling the cleared area under power lines that run through Milford, a few blocks from the Oval, while police calls for scared moose in neighborhoods have become almost routine.
"When I was a kid in the 1970s there were no deer in the Seacoast. Now they're everywhere," said Lester. "Wildlife management has worked – and the money for it has come from hunters (license fees). If there are fewer hunters, there's less money."
Silver linings
If there is a bright spot amid hunting's gloom, it carries an old-fashioned weapon.
Hunting with bow-and-arrows or muzzle-loading weapons has grown tenfold since these sports began to be taken up by non-specialists in the 1970s.
In 2003, nearly half of the people who got a New Hampshire hunting license also got a muzzle-loader permit for an extra $16 or $41, depending on whether they live in New Hampshire.
The numbers are slightly less clear for archery, because unlike muzzle-loaders, you don't have to buy a traditional hunting license in order to buy an archery license. However, most observers believe almost all bow-hunters are also firearm hunters taking advantage of archery's longer season, rather than people who wouldn't otherwise be hunting at all.
Still, more than 19,000 people, or one-third the total number of hunters, got an archery license last year.
"Legolas was very good for me," said Neil Head of New Hampshire Archery in Temple, in reference to the arrow-firing elf in the "Lord of the Rings" movies. "I can't tell you how many kids I had in here after that."
And after all, hunting remains still one of the most widely practiced pastimes in the country. A 2001 survey by the U.S. Fish and Wildlife Service found 14.6 million active hunters nationwide – fewer than there once were, but still nothing to sneeze at.
"Hunting will always be around. I think it'll plateau," said Lester. "I don't think hunting is going to be a growth sport in a state that is becoming a suburb of Boston . . . but it won't disappear."