November EYE Award Winner: Jessica Christoferson, Cymbidium Floral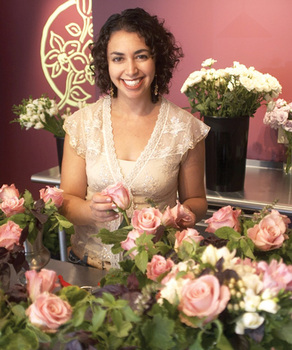 The elegance and uniqueness of the cymbidium orchid has made it a favorite of Exeter floral designer
Jessica Christoferson. So taken by the flower and what it represents, in fact, the 29-year-old entrepreneur chose it for the name of her shop at 141 Water St.
Like the flower, Cymbidium Floral is simple, yet elegant, boasting an exotic selection not often found in traditional flower shops. Furled petals of gloriosa lilies, giant protea and, of course, the long slender stem baring Christoferson's favorite flower all greet visitors.
Flowering bulbs, creative containers and other interesting gifts adorn shelves and tables add to the unique, almost minimalist décor of Cymbidium Floral.
Not yet two years old, Christoferson's business is already earning a reputation not only for its unique, one-of-a-kind arrangements but also for Christoferson's ability to translate her customer's ideas into floral masterpieces for enjoyment in their homes or for special occasions like family gatherings or weddings.
Owning a floral design shop may seem a drastic deviation from a career path that began with a degree in design and environmental analysis from Cornell University. But it was during Christoferson's studies at Cornell that she realized she wanted a career that would allow her to indulge her artistic fervor in projects that were more readily realized, unlike commercial design that meant short periods of artistic work and long periods of waiting to see the result.
While studying abroad during her junior year, Christoferson took part in an internship under one of London's esteemed floral designers, one who drew his inspiration from architecture. So intrigued was she with the process that she sought out work in the industry after returning to the States.
Choosing to settle in Chicago, the budding entrepreneur secured employment in local floral shops where she was able to work on everything from arranging small bouquets to addressing the floral needs of large events.
It was during Christoferson's time in Chicago that she began entertaining the idea of opening her own shop.
"I always knew I'd have a shop of some kind," said Christoferson who moved back to the East Coast with her husband Mike two years ago to be closer to her family. "Now I knew exactly what kind of shop I wanted."
What inspired you to start your business?
The work itself is rewarding. And it was a chance to bring a new concept to an area that didn't have anything like it. Also, it allowed me to fulfill a lifelong goal of owning my own business.
What about this endeavor are you most proud of?
I'm actually profitable, and I love every aspect of this business. I've proven to myself that I can actually have a successful business while I'm so young and really enjoy what I'm doing.
Where do you see your business 10 years from now?
Still right here in Exeter, just maybe having grown. I'd like to see another location or two — that would be great. I have people telling me all the time that a shop like this would be great here or there. The idea for more locations really comes from my customers.
How do you kick back?
We just bought a new house three weeks ago, so we're spending a lot of time working on that. I love to shop – not necessarily to buy things, but to get ideas and take mental notes. Taking time to just relax and watch a movie is nice – something to just turn off my brain – otherwise it just never shuts off.
Who are you role models or sources of inspiration?
Definitely my parents. They really taught me that you can do anything you want when you grow up. They gave me the confidence that I needed to do something like this.
As far as creative inspiration – I really like the work of London floral designers Jane Packer and Paula Pryke. And I am certainly inspired by the flowers themselves.
What is it about New Hampshire that's brought you here?
My family is here. The geographic location. Chicago was wonderful, but when you wanted to escape there was no place to go. Here we've got so much, all within an hour.
What advice would you give other entrepreneurs like yourself?
Definitely work in your industry – in as many different aspects as you can. Everything will add up and come together wherever you end up. This way you learn what parts of the business you like and what parts you don't like. Also, keep going, keep searching until you find what you're really passionate about because if it's not your passion you will just run dry.
The Emerging Young Entrepreneur awards program is presented by New Hampshire Business Review in partnership with Centrix Bank. The monthly award honors New Hampshire's young business owners for their creativity, determination and business success. Visit Centrix Bank online at www.centrixbank.com.