Nov. 15 groundbreaking set for Jaffrey theater project
Hutter Construction to lead renovation of 485-seat downtown facility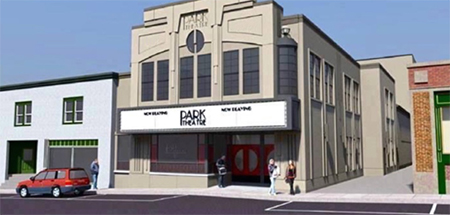 With the construction team in place, a Nov. 15 groundbreaking is set for the planned 485-seat Park Theatre renovation project, aimed at bringing back to life what was a central feature of downtown Jaffrey for over 50 years.
The team includes Hutter Construction of New Ipswich, The Savings Bank of Walpole, which is providing interim construction financing, the NH Community Development Financing Authority, the U.S. Department of Agriculture's Rural Development Office and the town of Jaffrey.
When completed, the theater will feature live performances, children's programs, concerts and films.
"There are 10,000 moving parts to these final steps," aid Caroline Hollister, chair of the Park Theatre board. "Putting our team together has taken extra time and added extra costs. Our major funder gave us an end date and our project partners have now given us the start date. Between now and that date each member of the team has important and specific responsibilities. Ours is to raise those additional funds."
The project's trustees have raised over $5 million to design, develop and fund the new construction. Other major funding includes a $2 million low-interest loan from the USDA Rural Development Office.