North Country sees economic boon in wood-to-biofuel plan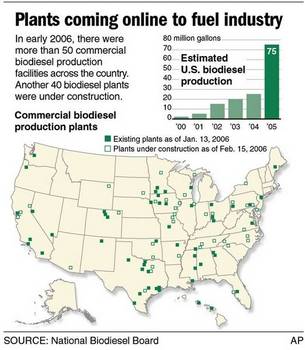 William Dell'Orfano, whose plan to pioneer construction and demolition debris incineration in New Hampshire resulted in a cloud of controversy and a ban on the practice, is now involved in an effort to introduce another new technology to the state, and indeed the nation: creating an additive to gasoline out of wood chips.
Dell'Orfano, who is still fighting the state to operate the stalled Bio Energy wood-burning plant in Hopkinton, is also the president of Manchester-based XGenesys Development Corp. in Manchester. With Tamarack Energy, XGenesys has formed North Country Renewable Energy, which plans to burn wood chips to generate electricity and create an alternative fuel additive in Groveton.
The $200 million project, which would produce 45 to 75 megawatts of electricity, has been well received in the North Country, particularly because of the promise of creating some 200 permanent jobs and using 1.2 million tons of wood chips annually from local loggers.
NCRE expects about 500,000 tons of those wood chips (which would not be from construction and demolition waste, also called C&D) would be used to make some sort of fuel additive, either ethanol or a substitute.
While burning wood to generate electricity is old hat, no one else has ever made liquid fuel from wood on a large scale.
"There are currently no commercial plants to produce biofuel from cellular wood chips or even corn stalks," said John Scahill, a project manager with the U.S. Department of Energy fuel office.
Perhaps the closet thing would be a proposal by Mascoma Corp. – a Cambridge, Mass., company with an R&D facility in Hanover, N.H. — that recently received funding to build a demonstration project that would use wood chips along with other feedstock.
Tamarack and Mascoma have reached a general agreement to look at commercial viable projects in the region, and Mascoma is now looking over the Groveton facility, but has yet to sign on to the project.
Commercially viable or not, biofuel is a hot investment right now. Companies like Exxon, Dupont and BP are spending millions of dollars to create ethanol and other fuel additives, thanks to public concerns over greenhouse gases and U.S. dependency on foreign oil.
In New Hampshire, thanks to the ban on the use of the additive MTBE, ethanol now accounts for 10 percent of the gas that goes into a car.
The Groveton project is not a case of using speculative dollars to finance another wood-burner, said Tamarack Energy President Derek Amidon. "Rather it's the other way around. We used a tried-and-true technology as an anchor for a new technology," he said.
Good timing?
The state is hoping to take advantage of the renewable energy surge. Last year, the Legislature passed a bill that would allow municipalities to set up five-year in-lieu-of-taxes deals with renewable energy facilities, and on Feb. 22, the Senate passed a bill that would allow such deals to be open-ended.
"The momentum is huge," said Amidon. With wind farms and other wood-burning proposals being kicked about, "there is a billion dollars of renewable investment available for the North Country."
"The timing couldn't be better," said Jasen Stock, executive director of the New Hampshire Timberland Owners Association.
With paper mills either down or out, the NCRE plant would create a market for low-grade wood that "would in essence replace the wood that was consumed by the Berlin mill," said Stock.
And it also might be just what Mascoma needs to build a plant there, if it could find a way to make money transforming almost half of that wood into fuel.
Breaking corn and sugar into ethanol is one thing. Using wood is another. Using food is easier, but it can fetch a better price feeding livestock and people then ethanol plants. Thus there has been a lot of research into using cellulose waste products, like corn stalks.
The problem is that these products have something call lignin, which causes the plant to stand up straight, but it also makes it harder (and more expensive) to make liquid fuel. Wood has a lot of lignin, so many companies have between working with more malleable materials. Celunol Corp. – another Cambridge company – recently broke ground on an demonstration project in Louisiana, that would use sugar cane waste products.
"The process is definitely adoptable for hardwoods," said John Howe, a Celunol Corp. spokesman. "It just hasn't been done yet."
(Celunol also has a demonstration project on line in Japan that uses wood, but the wood comes from C&D debris.)
Similarly Iogen Corp., a Canadian firm, is using agricultural waste products to feed a small plant in Ottawa, though it also is considering experimenting with wood in the future.
But lignin could also be an asset if you have a wood-burning plant right next door, because it is easy to burn, said Peter Rothstein, senior strategist for Mascoma Corp. In addition, the plant would have a ready supply of wood, as well as power and steam. Indeed, said Rothstein, many large ethanol plants find that it makes economic sense to build a power plant next door.
Still, there are many technical hurdles to overcome. For one, there is the financing, both through the permitting stage (which Amidon says Tamarack has already raised) and the construction phase (which Tamarack, as part of the Haley and Aldrich engineering firm would be able to raise, said Amidon.)
Then there is the long process of getting a permit, which is expected to start in April. But that might actually be to Mascoma's advantage.
Mascoma's Rochester, N.Y., plant – which recently received some $14 million in funding from the state of New York — won't be completed until the end of the year and won't be up and running until the following spring. That would give the company time to test its technology on wood chips with a number of enzymes on a much smaller scale: about 10,000 tons a year, as opposed to half a million. Then it could plug that technology into the Groveton plant, which should take at least two or three years to get on line.
Not only does the plant need a permit from the state Department of Environmental Services, but also from the state Energy Facilities Siting Evaluation Committee, which has to approve all large power plants in the state.
Experience counts
And that brings us to Dell'Orfano and XGenesys.
Dell'Orfano, who would be operating the wood-burning facility, has experience running such plants and dealing with cogeneration facilities, said Erik Taylor, an XGenesys spokesman.
Indeed, it was Dell'Orfano who attended a meeting on Feb. 15 in Groveton assuring residents that the chemicals "follow strict guidelines for the safety of the environment," according to one local newspaper report.
But Dell'Orfano's experience is a double-edged sword. Bio Energy operated the wood-burning generator in Hopkinton for nearly two decades before its rate deal with Public Service of New Hampshire expired. It ran into trouble shortly after it attempted to switch to a cheaper fuel — C&D debris – in an attempt to make the old burner more economically viable.
Such waste, however, usually has lead paint on it. So after New Hampshire Business Review first reported in the fall of 2003 that Bio Energy's permit allowed it to release 2.6 tons of lead in the air, a storm of controversy ensued, despite Bio Energy's assurances that the emissions were safe, and would actually be far lower than the 2.6-ton ceiling.
In the battle that followed, the state ended up revoking the plant's solid waste disposal permit, saying that Dell'Orfano didn't adequately inform the Department of Environmental Services about his partner's recent felony conviction — a fact also first revealed in New Hampshire Business Review.
The Legislature eventually passed a temporary ban on burning C&D waste — a ban that is likely to become permanent this year with a Democratic Legislature and the support of Gov. John Lynch, who is from Hopkinton.
The plant has been shut down so long that the state has required Dell'Orfano to apply for a new air permit if it wants to reopen and burn clean wood chips, as it did before.
The company is fighting that air permit decision in court, as well as appealing its solid waste permit revocation.
Taylor emphasized that there were no plans to burn any C&D waste in Groveton. "The fiber market is immense. Why would we want to truck C&D waste from the southern end of the state?" he said.
Taylor also emphasized that XGenesys was involved in a "host of other projects besides Bio Energy" including a woodchip plant in Lowell, Mass., and a diesel generator in Colombia, where Dell'Orfano has some mining interests.
Still, despite that experience, does it make sense to partner with a company that has such a contentious relationship with the same agencies that will grant a permit?
"I did pretty extensive due diligence," said Amidon. "My conclusion is that they are talented, honorable people who are very technically astute," he said. "And I hope people with an open mind will draw the same conclusion that I have."